MEET THE CROTTS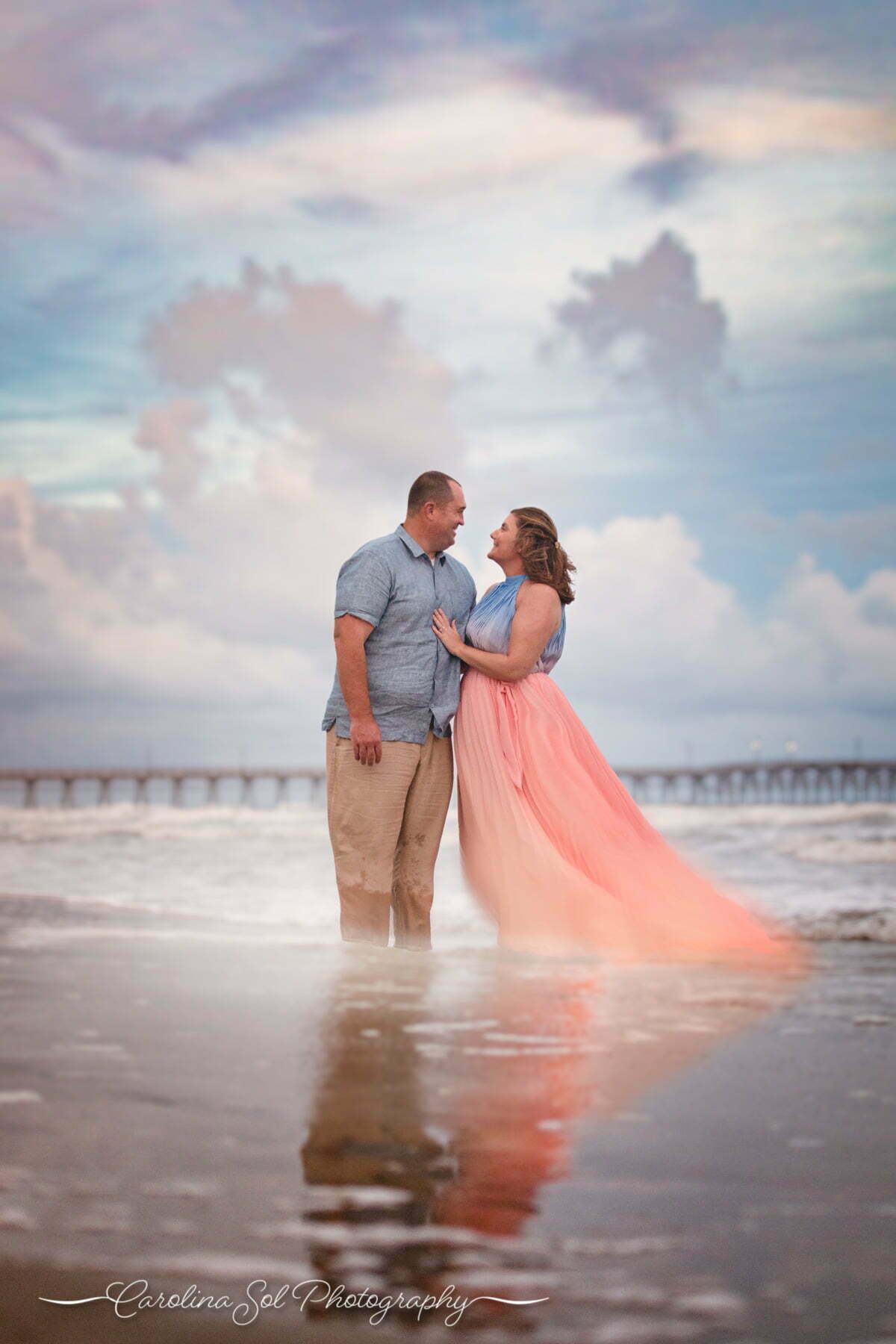 Sunset Beach Pregnancy Announcement Photography
My "why" as a professional portrait photographer is to be a part of capturing special moments in people's lives. Creating works of art out of meaningful moments that should be kept forever. For moments like this one.
The Crotts family reached out to me one day asking for information about my sessions and to see if I had availability for a Sunset Beach pregnancy announcement photography session. This is not uncommon, as I'm a maternity photographer, but what really grabbed my attention was that she was interested in a baby announcement session for a baby they had not yet conceived.
After a long journey with IVF, the couple was hoping to announce their pregnancy at a place that is special to them, Sunset Beach, North Carolina. My goal is to give each and every one of my clients a unique and enjoyable experience, but this was even more special. I was honored to photograph such an exciting moment for this growing family.
For many, undergoing IVF treatments can be a long and exhausting process, but it is worth it. I make it a priority to ensure my clients can relax and trust the process knowing that they will receive incredible images. I work hard to make that happen! I want my clients to come to me with their ideas and trust that I understand the task at hand. After all the stress that comes with pregnancy and life in general, I want to give my clients a moment of solace so that they can enjoy their time making memories!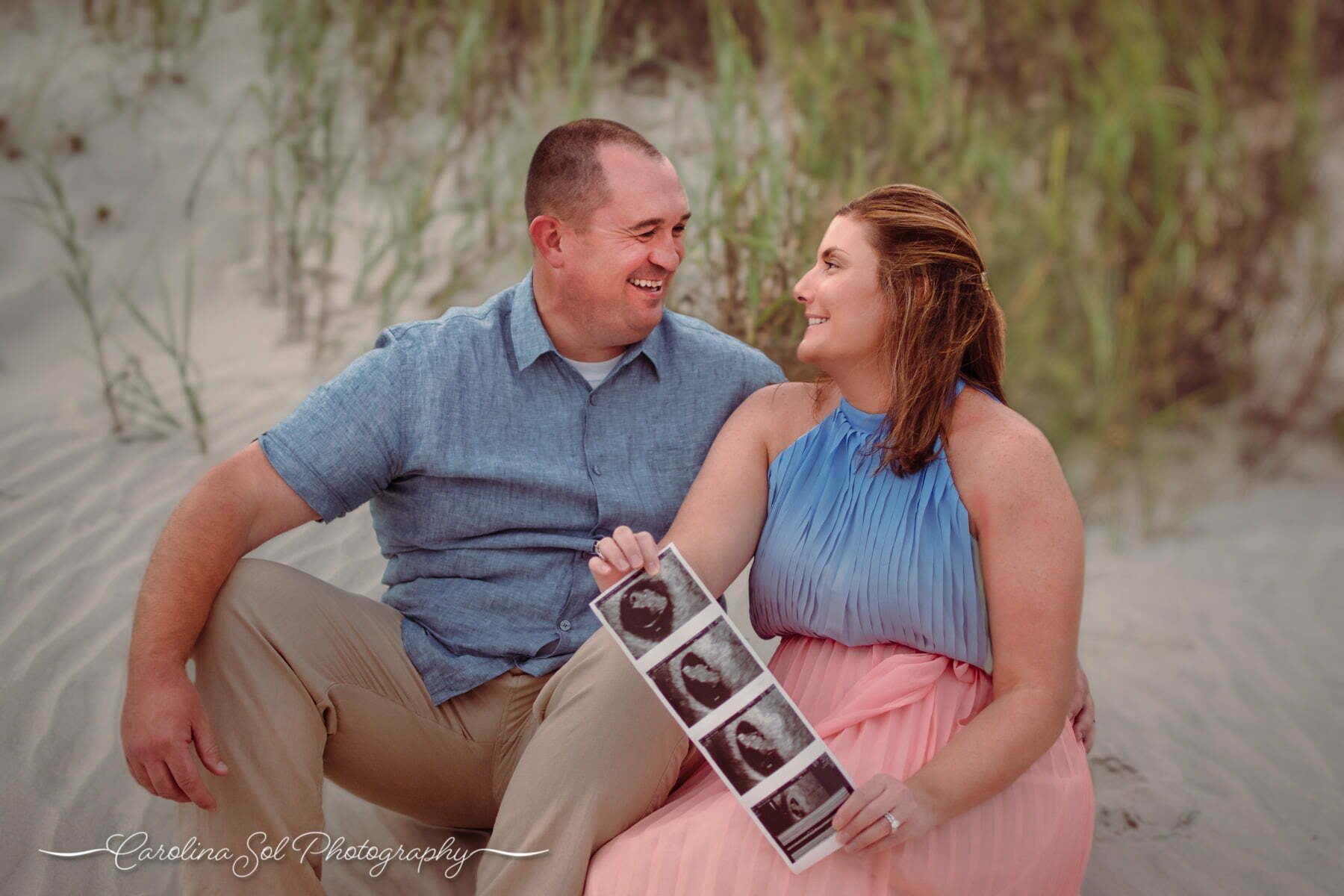 A few weeks later, I received a beautiful message saying the embryo transfer was successful. She was pregnant!
We went over details of her vision for her pregnancy announcement photography session that would be taken at Sunset Beach. One of the things I specialize in is beach portraits and Sunset Beach is one of my top preferred locations to hold photography sessions. Once you go to Sunset Beach is easy to understand why there are few places like it. I just knew we would make magic and I was so excited about it! Having a Sunset Beach pregnancy announcement photography session never fails.
Session Day
Session day rolled around before we knew it and the weather was perfect. We started our session during golden hour near the Sunset Beach pier. We had a few props including a message board, baby booties, a few onesies, and other baby items. I always encourage my clients to bring personal baby items to pregnancy announcements or maternity sessions. By using these items it helps add a nice touch!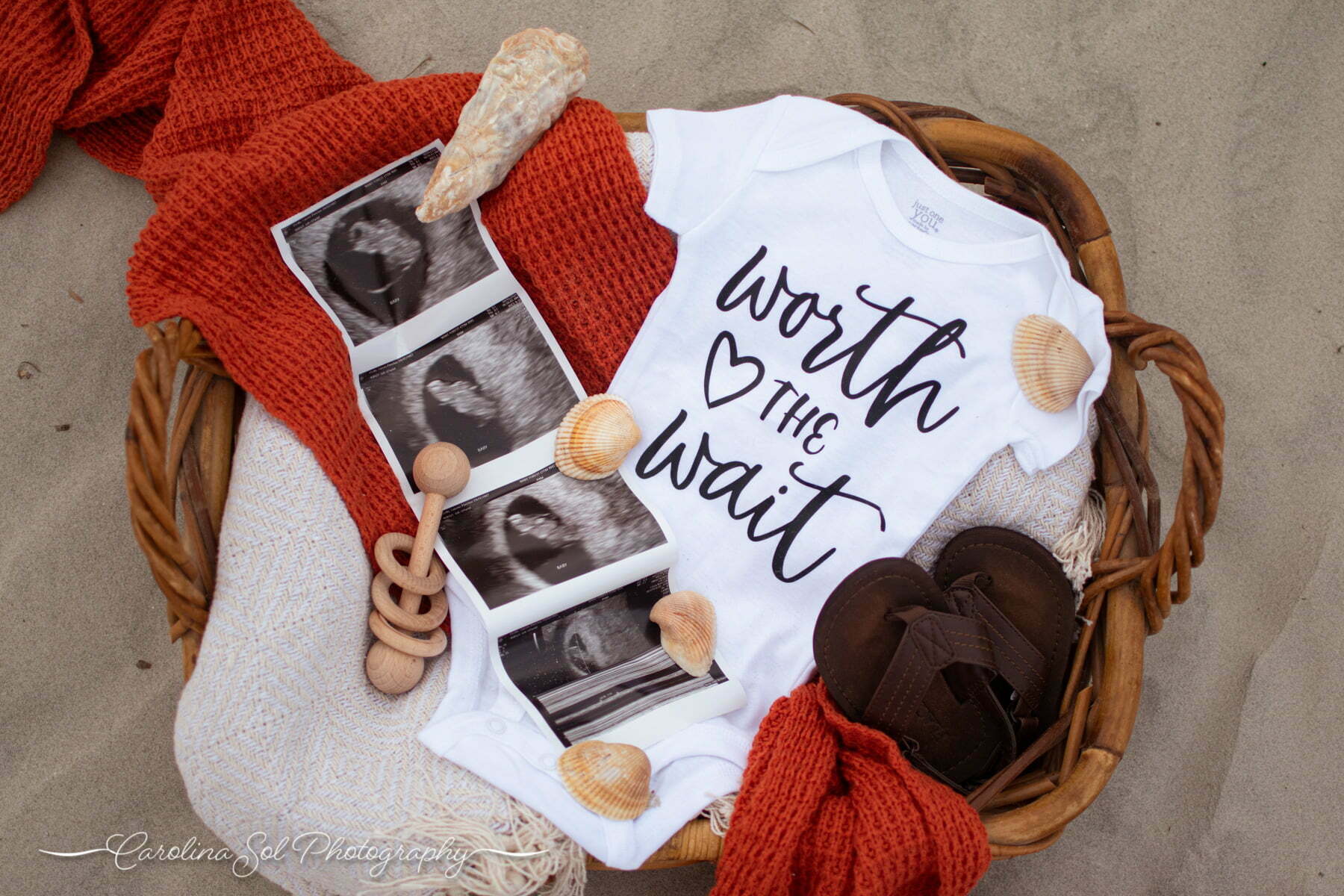 I set up to photograph details and we took a few shots of items in a basket. For pregnancy announcement photography, I always try to include an ultrasound and baby items if possible. In this case, we were also able to include a picture of the embryo before it was even conceived, which was really cool!
The Sunset Beach pregnancy announcement session was everything we hoped for and more. The light, the location, the couple, the wardrobe, the weather, it was all working together in perfect unison. And we absolutely did make magic!
One thing I love about Sunset Beach is how wide the soft sand beach is. Even though the beaches are often crowded, at Sunset Beach there is typically enough room to find a spot without getting people in the background.
Next time we meet at Sunset Beach they will be a family of 3, and I will be glad to photograph their newest addition.

Congratulations to the Crotts and their growing family!

I look forward to our next family photography session at Sunset Beach!
Photographer tips:
Sunset Beach typically does not have many shells which could be a problem if you are planning on using shells in your photography. With a Sunset Beach pregnancy announcement session, you may want to include a few shells. Its better to be safe and bring a few of your own rather than hoping to find shells on the beach. Just something to keep in mind!
The beach is very wide with tall dunes and beach grass. It is absolutely beautiful. You can expect it to be packed with people during summer time.
Sunset Beach, NC is a very popular nesting ground for loggerhead sea turtles, so be prepared to see nests and maybe even baby turtles if you're lucky! Be cautious when visiting the beach during nesting season and never approach the turtles!
Sunset Beach is named in honor of the glorious show it puts on every night, and it definitely lives up to it's name. Spend some time exploring the area and you'll be sure to find tons of great shots for nature photography or locations for portrait photography sessions. You won't be disappointed!