MEET THE SPENCER FAMILY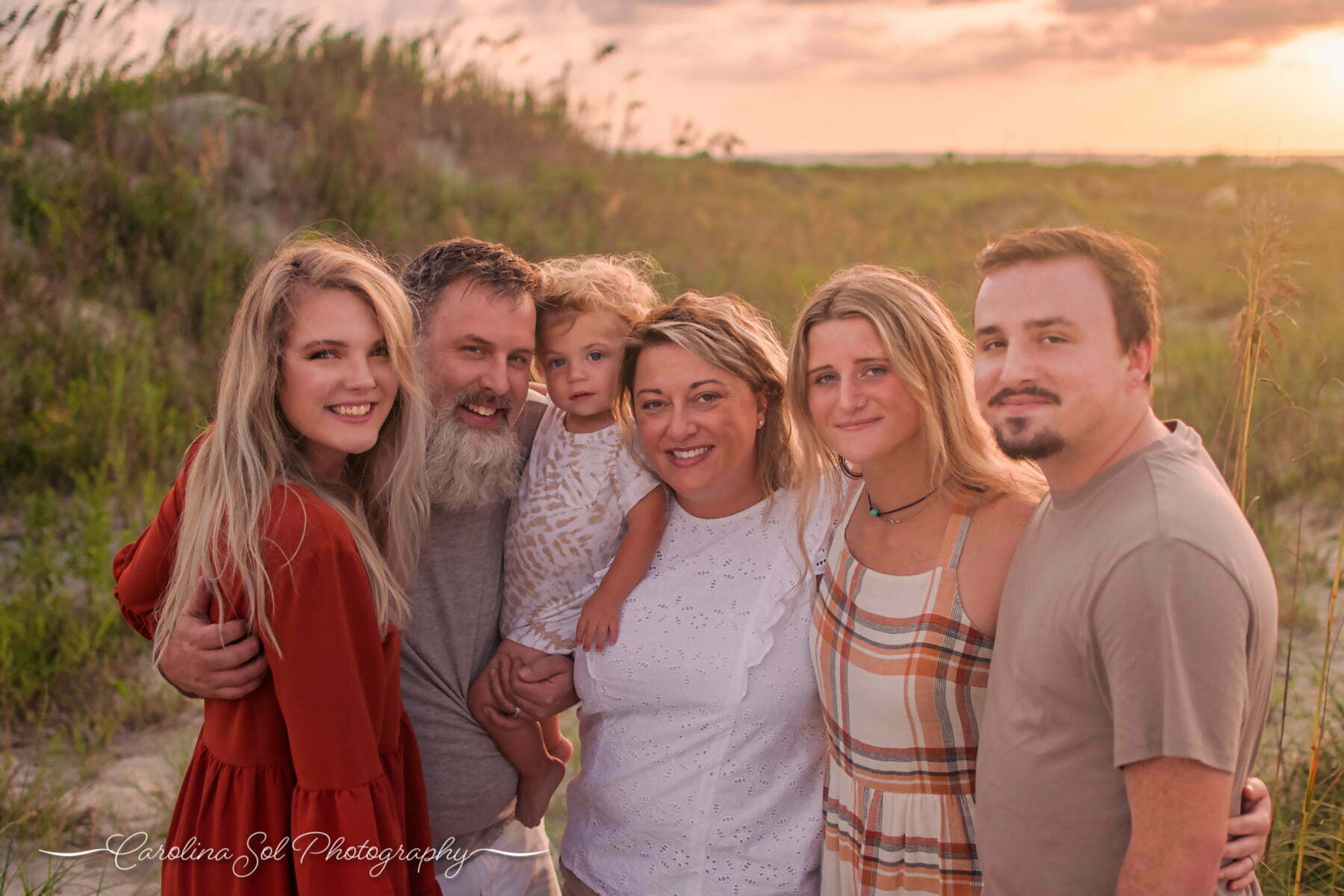 Lifestyle Family Photography Sunset Beach
Summertime is one of my busiest times of the year with many clients booking lifestyle beach family photography sessions. It's no wonder why they are so popular, every session involves bottling up that sunshine to save for a rainy day. Beach family portraits are one of the things I'm known for and I take great effort making sure each session has a stunning outcome.
Sunset Beach, North Carolina
Over this past summer, a young lady reached out to me with an idea to surprise her mom. She wanted to give her mom something she had been wanting the last few years for her upcoming birthday. A lifestyle Sunset Beach family photography session at none other than the paradise that is Sunset Beach, North Carolina. Lucky for me, I specialize in family beach portraits, and as a photographer is one of my favorite things to do. I was excited to be a part of something so special. I was so excited for our lifestyle family photography Sunset Beach session with the Spencer family.
A Surprise For Mom
I am one of those people who loves a good surprise – especially when I'm able to be a part of the big reveal. I love seeing the reaction on their face when they realize what's going on. What's even better is when kids surprise their parents with thoughtful gifts that don't fade over time, it just gets me right in the heartstrings.
This family hasn't had professional family portraits taken in years. Kids grow up fast, new family members join the crowd, and life doesn't slow down for anyone. That is one of the reasons I love lifestyle family photography Sunset Beach sessions so much because 5 years from now the family will probably look totally different. Having photos to look back on with the family together lets you savor the time you have together a little more.
My client had scheduled their lifestyle family photography Sunset Beach session for her mom's birthday. The plan was to get everyone all dressed up and go to the beach, where I would be waiting as their photographer.
And sometimes, plans don't always go the way you planned them. Our original session day fell through and had to be rescheduled. But this did not dim the excitement or surprise the Spencer family shared when they were told about their upcoming lifestyle family photography session at Sunset Beach.
They were excited, and the mom was thrilled to finally have the family photos she had been wanting for years!
Session Day
Session day arrived and it was a perfect day for a lifestyle beach family photography session. Warm summer sunshine, clouds on the horizon, nice gentle breeze, gorgeous light shining on the beach. Can't ask for much better.
The best time to have a lifestyle beach family photography session is either sunrise or sunset. I prefer shooting beach portrait photography during the golden hour before sunset. Capturing the beautiful sunset on the beach photographs so well and I love seeing it. Keep in mind, they call it Sunset Beach for a reason! It truly lives up to its name.
When the family spotted me and we all were introduced, I could see the excitement in the mom's eyes. Life has changed so much since their last family photos, and they never had their photos taken by a professional photographer at Sunset Beach. I was happy to help.
Seeing that joy makes me love my job that much more. I love how I'm able to give my clients the gift of memories they can cherish for generations! Not only did the family enjoy creating the memories but they also have the images to remind them of all the fun. Timeless images that will stand the test of time. Lifestyle family photography Sunset Beach sessions are sure to leave a positive impression on you that you will be glad to experience.
We started with group shots of the whole family and then broke off into smaller groups. I do this with every lifestyle family photography session to get a good variety of family portraits. I work to bring out their individual personalities while focusing on photographing the small details. The way the husband moves hair out of his wife's face, the tiny footprints in the sand left by toddlers, the big smiles when sharing a group hug. This lifestyle family photography Sunset Beach session had all of that and more.
The dunes provided such a lovely background and we all had a great time. I could tell that the family was happy to do the session knowing how important it was to their mom. The lifestyle family photography Sunset Beach session went great and I am so proud of the moments we were able to capture.
A Second Surprise
When we were wrapping up our lifestyle family photography Sunset Beach session, the most beautiful thing happened! Off in the distance I could see a crowd forming in a line towards the ocean. This could only be one thing.
Baby turtles were hatching and starting their journey to the ocean! It wasn't far from where we held our session but turtle boils happen fast. I want sure if I could make it in time to see any sea turtles.
I have lived at the Brunswick county beaches for my whole life, but this is not something you see every day! If you get the opportunity to watch turtles hatching, you should absolutely course to witness the magic! Camera in hand, I ran down Sunset Beach in hopes that I would get to get a glimpse of the turtles.
It must have been my lucky day. If I was a second later I would have been too late. The moment I got there, the last baby loggerhead turtle was just a few feet away from reaching the ocean. I did not hesitate and took a few pictures of the sweet sea turtle. I watched in awe at the beauty of such an incredible moment.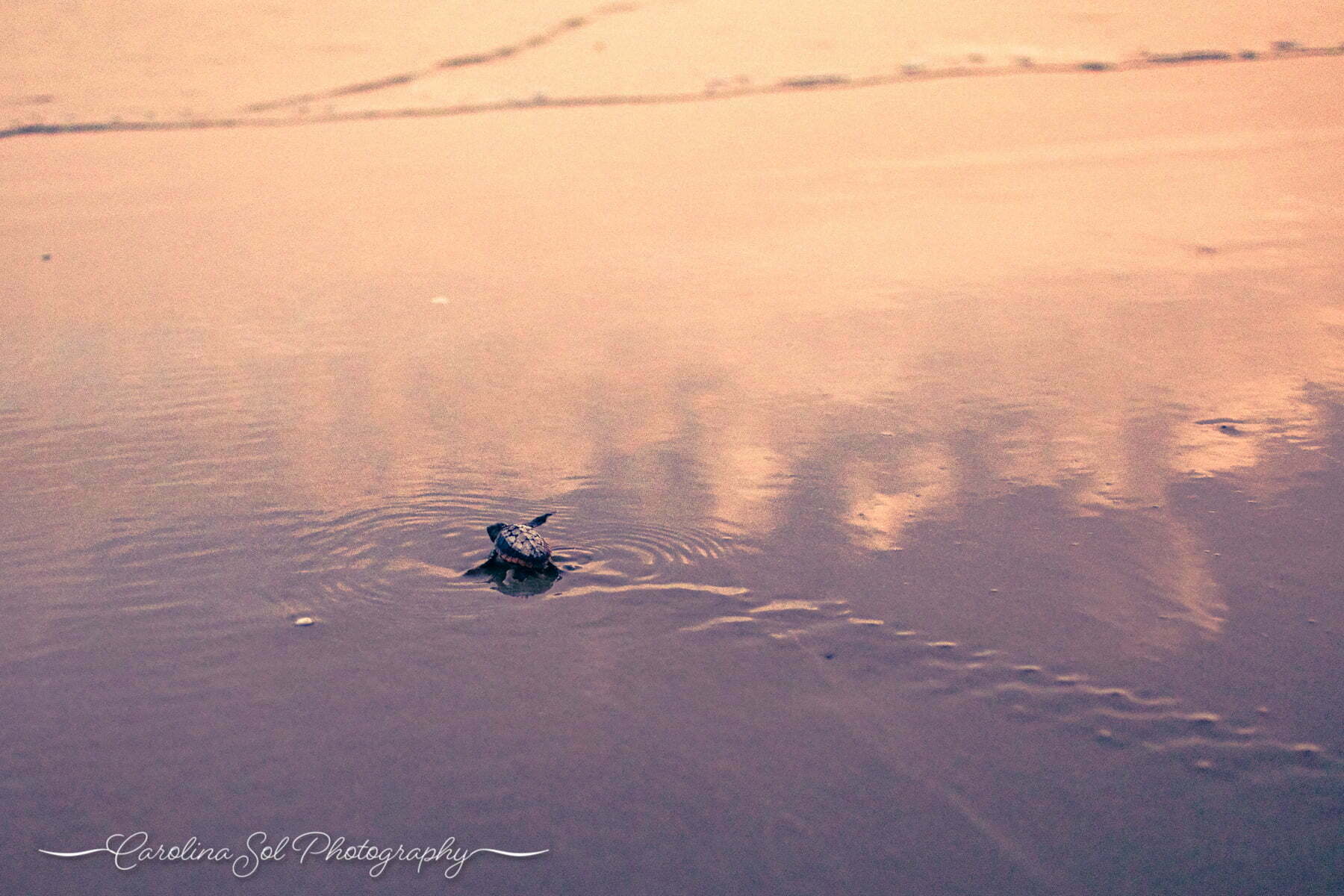 He made it! I watched as a proud parent would and wished the sea turtle good luck before he vanished beneath the crashing waves almost waving goodbye.
The Sunset Beach turtle patrol helps every single nest make its journey to the ocean safely. I apologized for running over the way I did and explained my excitement to witness sea turtles hatching and how much I'd love for my family to witness it too someday. The volunteer informed me that the nest was not empty and still had some babies that could hatch the next day around the same time.
And what would you know? We went back to the same place at the same time the very next day, this time I had my two sons with me. One brave turtle emerged from the sand with eyes set on the great big sea. My boys were amazed. A Sunset Beach turtle patrol volunteer asked my oldest son if he wanted to name the baby loggerhead turtle, which he lovingly named "Sea Turtle". It is a moment I'll cherish forever. Thank you to the wonderful volunteers at the Sunset Beach turtle patrol.
Photographer Tips
Sunset Beach is among the South Brunswick beaches that are very popular nesting ground for sea turtles. The nesting season typically lasts between May and the end of August. This means during nesting months, it's important to be extra cautious and aware of your surroundings while holding sessions at the beach. Sea turtles come on the beach stand to lay their eggs near the dunes, and if you're lucky you'll get to witness it.
Oftentimes people dig holes and don't fill them in which creates a hazard for humans and animals alike. Watch your step and be aware of your surroundings even while behind the camera. Lifestyle family photography Sunset Beach sessions typically involve a lot of movement and no one wants to fall in a hole. Be on the lookout for these hazards!
If you see a crowd gathering in a line towards the ocean, chances are it is sea turtles hatching. This is an exciting event and the volunteers protecting the turtles understand that! Please don't get in front of the turtles or close to them, especially if they have made it to the water. Waves can push them back and no one wants to accidentally harm the sea turtle by stepping on them. Keep a reasonably safe distance.
Do not step on turtle tracks or try touching the turtles. Give them plenty of space and do not interfere.
If you're hoping to photograph the sea turtle boils, you absolutely can NOT use flash or additional light under any circumstances. Sea turtles follow the light reflecting on the ocean to find their way and any other lights can be harmful. Sea turtle safety is the number one priority.