What to wear for your beach family portraits and what to avoid
Deciding what to wear for your beach family photography session can seem like a daunting task, but it doesn't have to be. I've created this beach family photography style guide to give you the best photography experience at the Brunswick County beaches! Part of that is ensuring you all look and feel your best. No need to rush out and buy the family a whole new wardrobe, you can use what you already have first! Family portraits are fun and stress-free, even while working with toddlers. Check out these beach family photography style guide tips to get the most out of our session!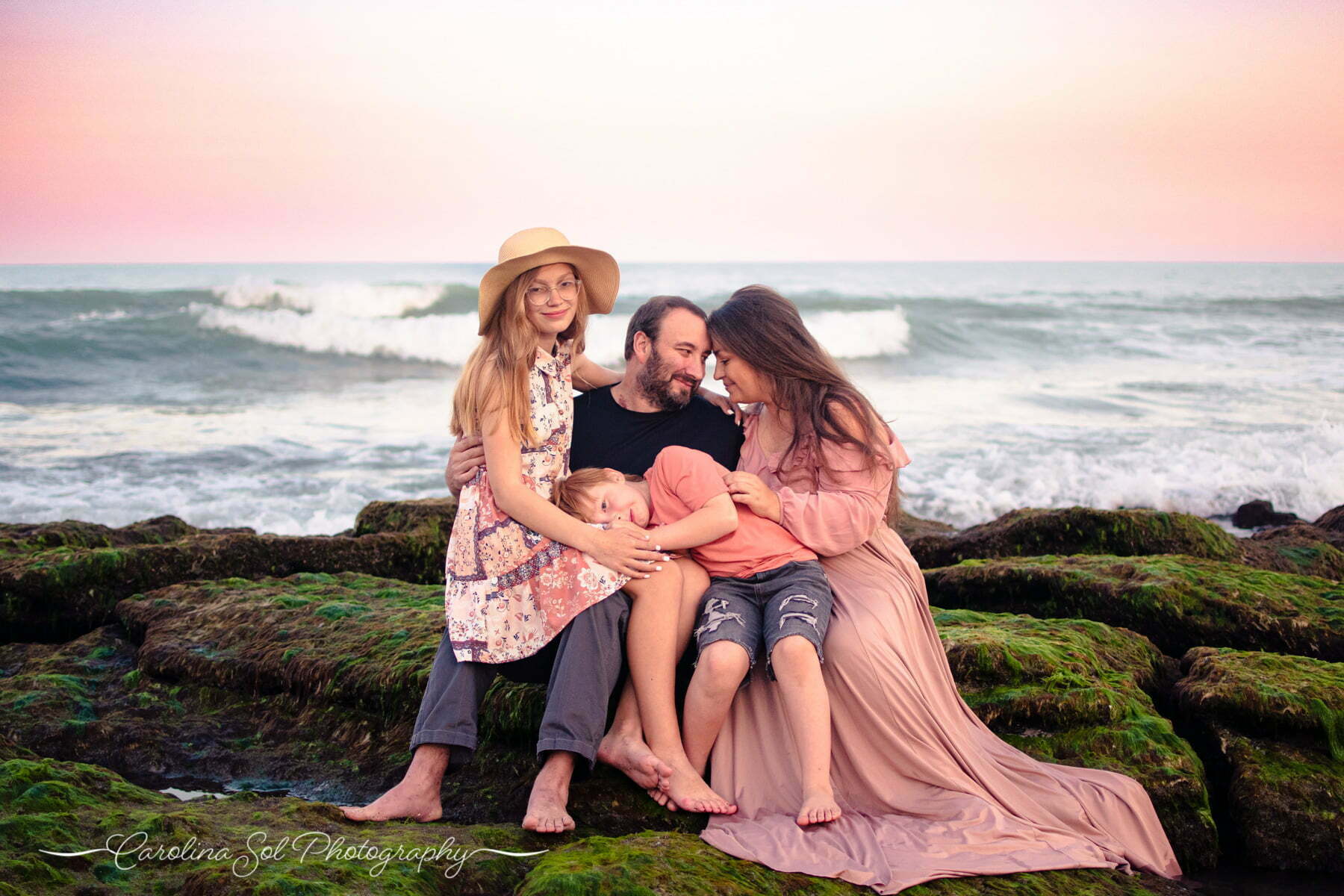 Don't wear identical outfits
I know you may have heard in the past, that having everyone wear white polos and khakis is a good idea for your beach family portrait session. I am here to tell you, don't do it. Avoid this uniform, because that's what it is. A uniform. Growing up at the beach, this dated family beach photo uniform is something you can spot a mile away. Being overly matchy-matchy doesn't photograph well and makes the family blend together.
Instead, let's allow the freedom of individuality to shine through your family photos. We want to capture personalities and be authentic to ourselves. Find outfits that go well together as a group. Pick your complementary color scheme and coordinate everyone with that.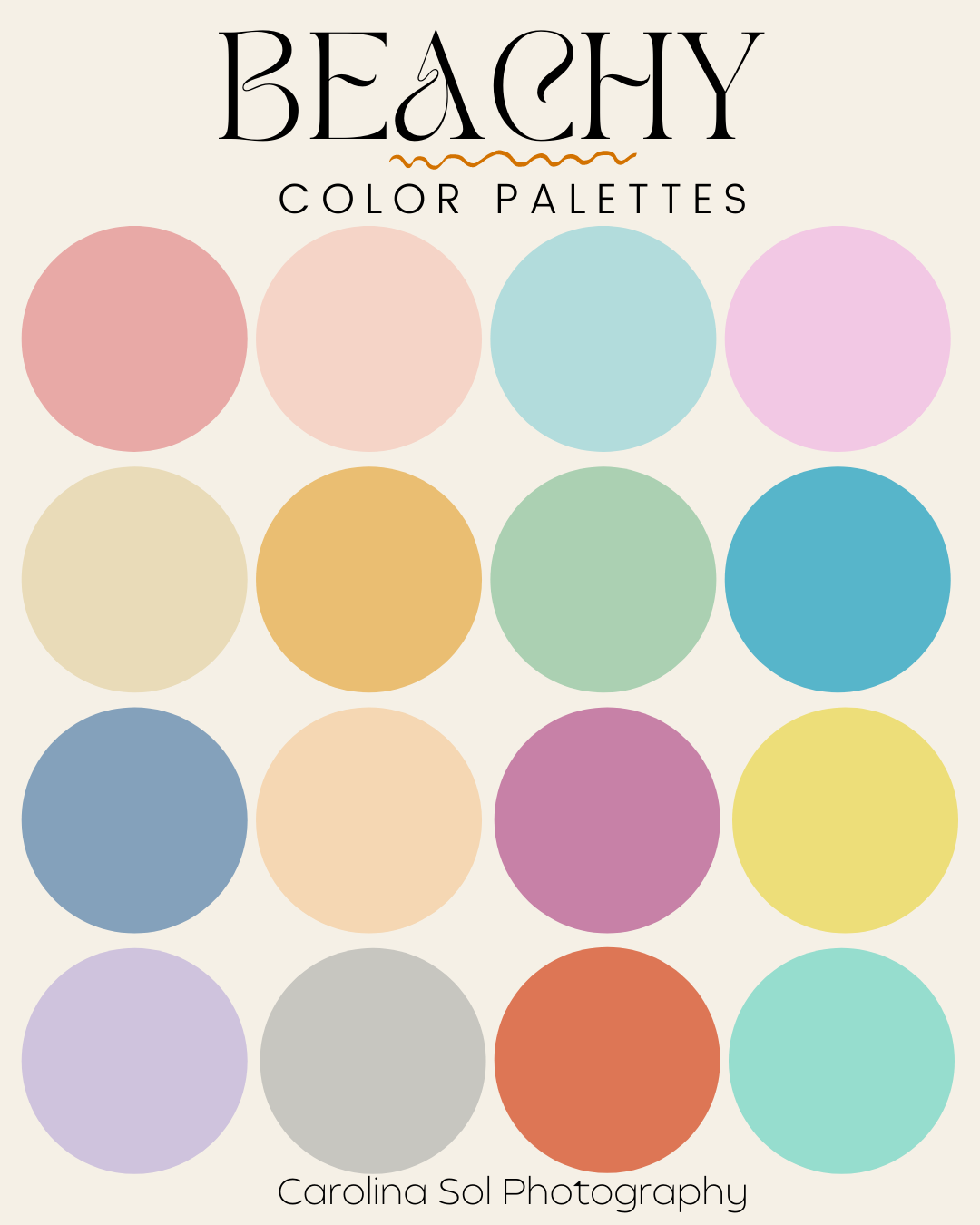 Have a color scheme
Having a family color scheme is an effective method to ensure your whole family looks great as a group. Pick a beachy color scheme for your family photography session and coordinate everyone's outfit accordingly. You'll be happy with the results. Have everyone coordinate their outfits to match some of the chosen colors. Soft neutral pastel colors work well for family beach photos. Others may choose bold, vibrant colors with jewel tones.
Bonus Tip: Avoid neon colors as they shine onto your face and are distracting. Solid black or white tends to look flat for beach family photos, choose something with texture.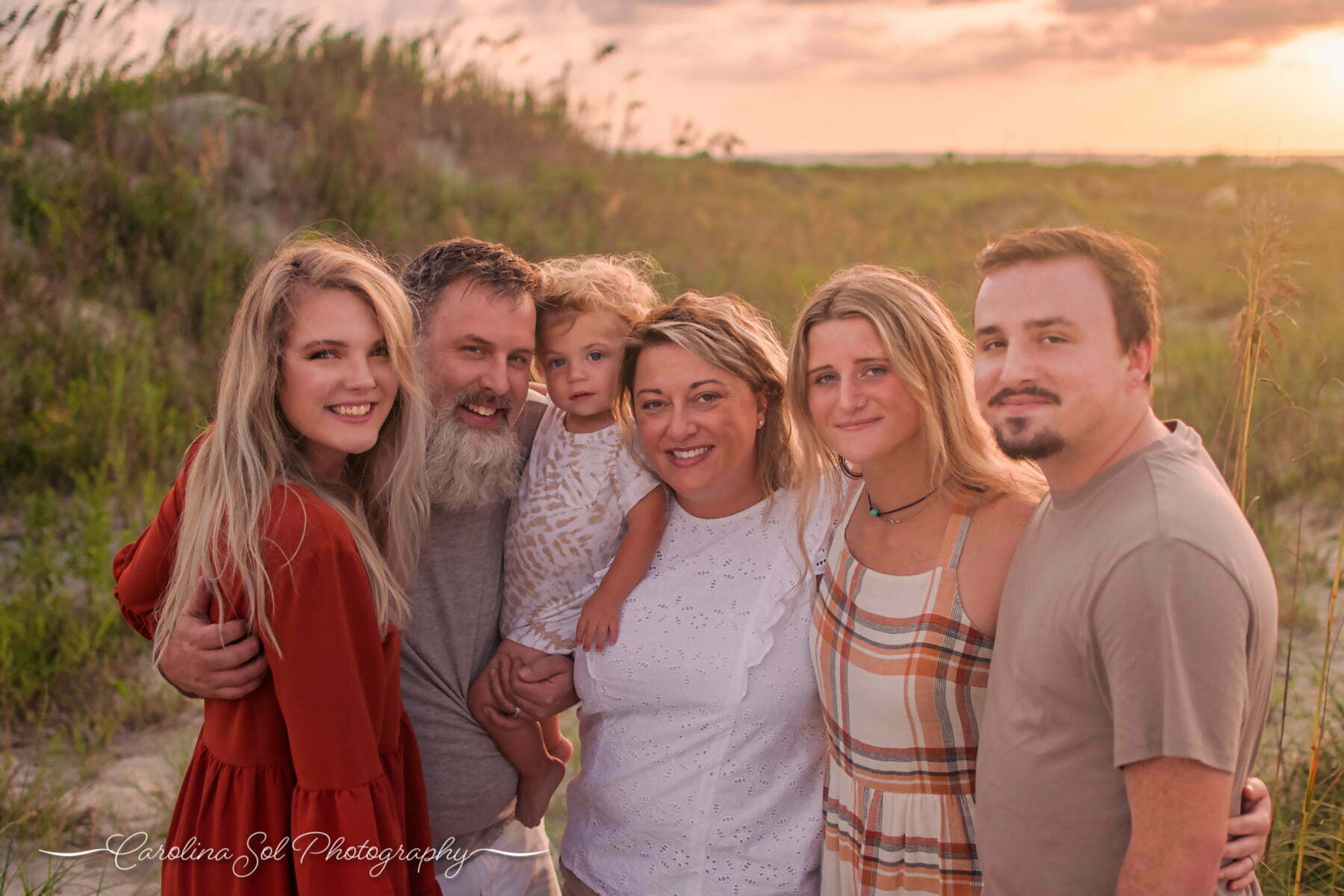 Wear simple patterns
Simple is key here. Decide on one simple pattern and pull colors from it to use in your style choices. Build your group outfits around complementing solid colors with simple patterns. Avoid patterns that could clash too much with your surroundings or stand out too much from the group. Avoid anything with a logo or a large graphic. Remember, the key is simple, non-distracting patterns that help tie your group together as a whole. Stripes, small polka dots, florals, and plaid are good options!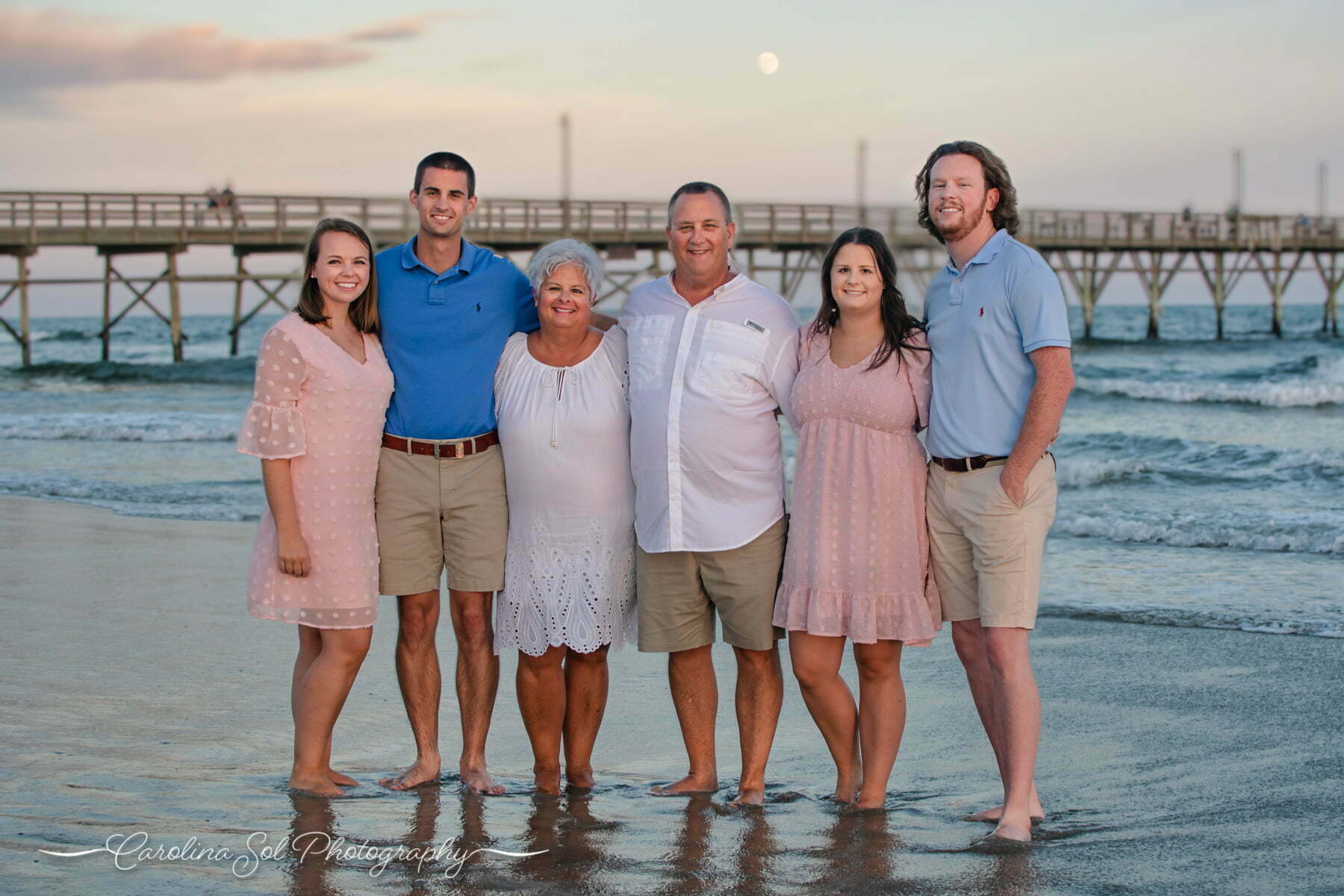 Wear something that's comfortable and fits well
Everyone should wear something that they like, feel comfortable in, and that makes them feel good. You will look and feel more confident! Sometimes people will buy clothing for their kids that can be grown into, but that isn't the best for photographs. We want these photos to be framed on the wall for decades to come, right? It's important to decide on outfits that are well fitted and make you feel good and confident.
Accessorize with layers
Don't be afraid to add some layers to your wardrobe choices! Accessorize to your heart's content! This helps give the images more dimension, which creates better photos. Adding different textures to the wardrobe help tie the group together! Some good beach accessories would be hats, hair clips, jewelry, belts, scarves, jackets, cardigans, etc.
Bonus Tip: Be sure to remove any unnecessary or distracting layers before your session! Things like hair ties on your wrist, FitBits, airpods, cell phones, etc.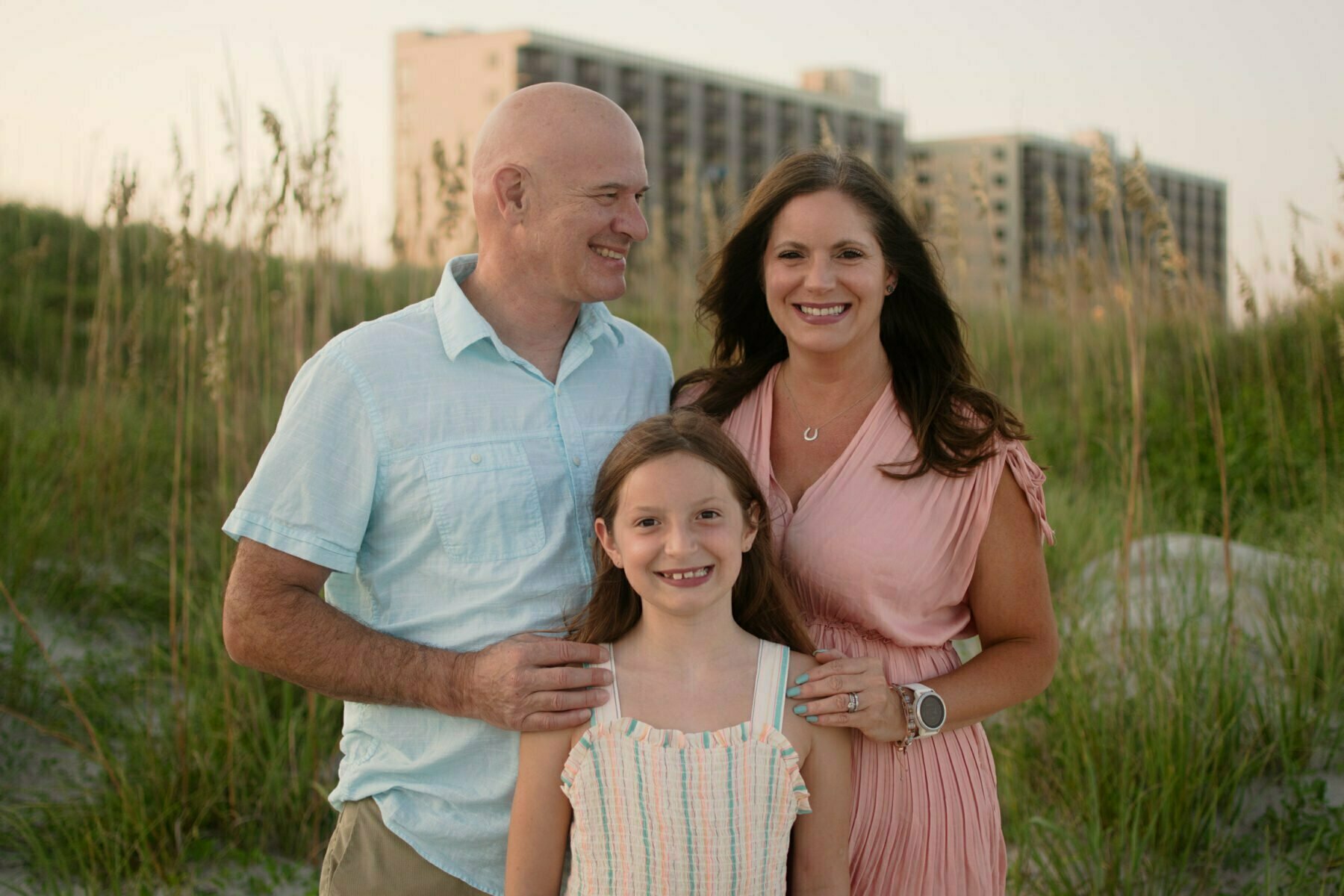 Tips for women
Ladies, you can never go wrong with a long flowy dress at the beach. Anything that has a bit of flowyness to it will look amazing on a windy beach. Pair your favorite dress with beachy jewelry and hair clips. A maxi dress or skirt with a cute hat. Go for a more relaxed look and wear denim or white shorts and a shirt with a pop of color. For larger groups, don't be afraid to mix and match styles and have everyone wear a variety of these choices, it will help tie the group together!
Tips for men
Guys can almost always find something to wear in their closets. Solid color button-down shirt with khaki shorts and a belt. Simple pattern shirt with your chosen colors and denim shorts or jeans. Polo shirt, khaki shorts, and your favorite watch. Just be sure to pick colors that go with your scheme. Simplicity is key!
Following these simple beach family photography style guide tips will ensure you get the most out of our session! Check out more helpful session tips