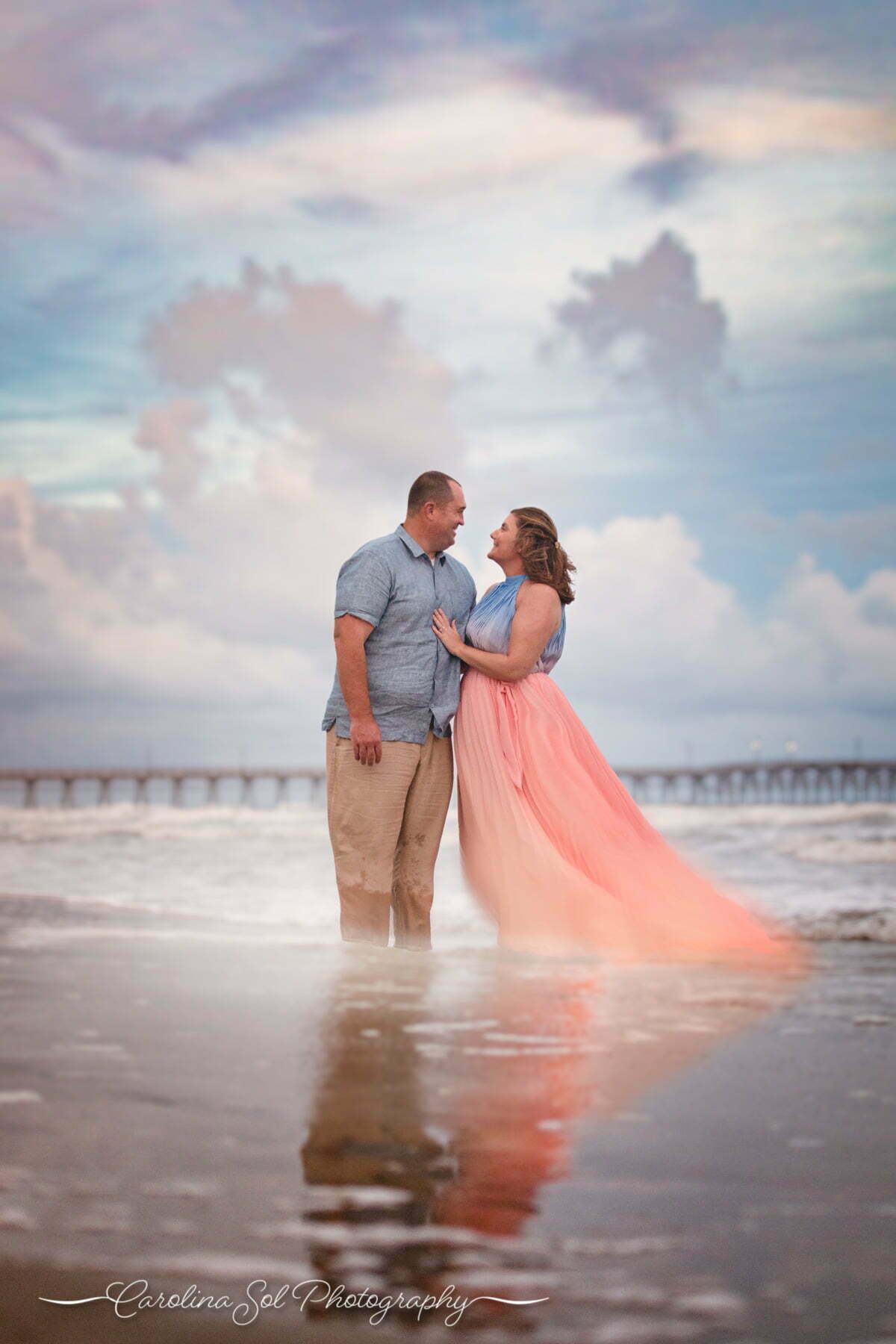 One of my favorite things as a maternity photographer is being able to create something that lasts forever out of a moment that passes by so quickly.
Maternity photography is so beautiful and captivating. Pregnancy is an exciting journey, but it can't also be a stressful time for many. Whatever your journey looks like, maternity portraits are unique and important. I do everything I can for my maternity clients to ensure they have a relaxing session that gives them the best results. Many times people wonder how to prepare for maternity photography sessions so they get the results they want.
As a maternity photographer, I understand that maternity portraits do also require a bit of effort for the client. Follow these steps to prepare for maternity photography sessions that will leave you amazed!
Follow These Tips To Prepare For Maternity Photography Session And Get Amazing Results
---
Hire a Professional Maternity Photographer
Professionals do it better. They are pros for a reason. They know what they're doing and you know what you're getting. Pregnancy is a chapter in a family's life that I believe deserves to be celebrated and documented in a meaningful way. High-quality is important! There are no do-overs. By going to someone who specializes in professional maternity photography, you can save yourself a lot of stress and disappointment.
The first step to prepare for maternity photography sessions is to find your photographer. A photographer whose work you love and admire. Someone you are excited to work with.
Not all photographers are equipped to sell prints and products. In fact, many photographers don't sell prints or products at all. They simply take the images, deliver, and part ways. There isn't a relationship between the client and the photographer. There isn't a whole lot of effort or personalization for each client. The photos will lack that wow factor and look amateur. If the customer wants prints the best choice they have is Walmart.
Storytelling imagery that can be displayed in your home in creative ways. Seeing the photos printed in the finest quality by world-class printers exclusive to photographers. Your images can be appreciated, shared, and passed down to future generations. This is much better than being stuffed in a drawer never to be seen again.
With a professional photographer you know they are knowledgeable of their craft, experienced, trustworthy, and reliable. You can prepare for maternity photography by finding the photographer that's right for you.
The client experience is an enjoyable process where you know what you're getting and it's tailored to you. You can relax without any extra stress while your photographer does their job. Pregnancy is a beautiful stage in life that goes by quickly and your maternity portraits should be just as meaningful.
Book a professional maternity photographer who you can trust to get the job done right.
Schedule Your Maternity Session Early
Many professional maternity photographers schedule sessions months in advance and have booked up calendars, so don't wait. Try to schedule your maternity session between 25-35 weeks pregnant.
Maternity photography is all about capturing that beautiful baby bump. You can proactively prepare for maternity photography sessions by scheduling your maternity photo shoot towards the end of the second trimester or the beginning of the third.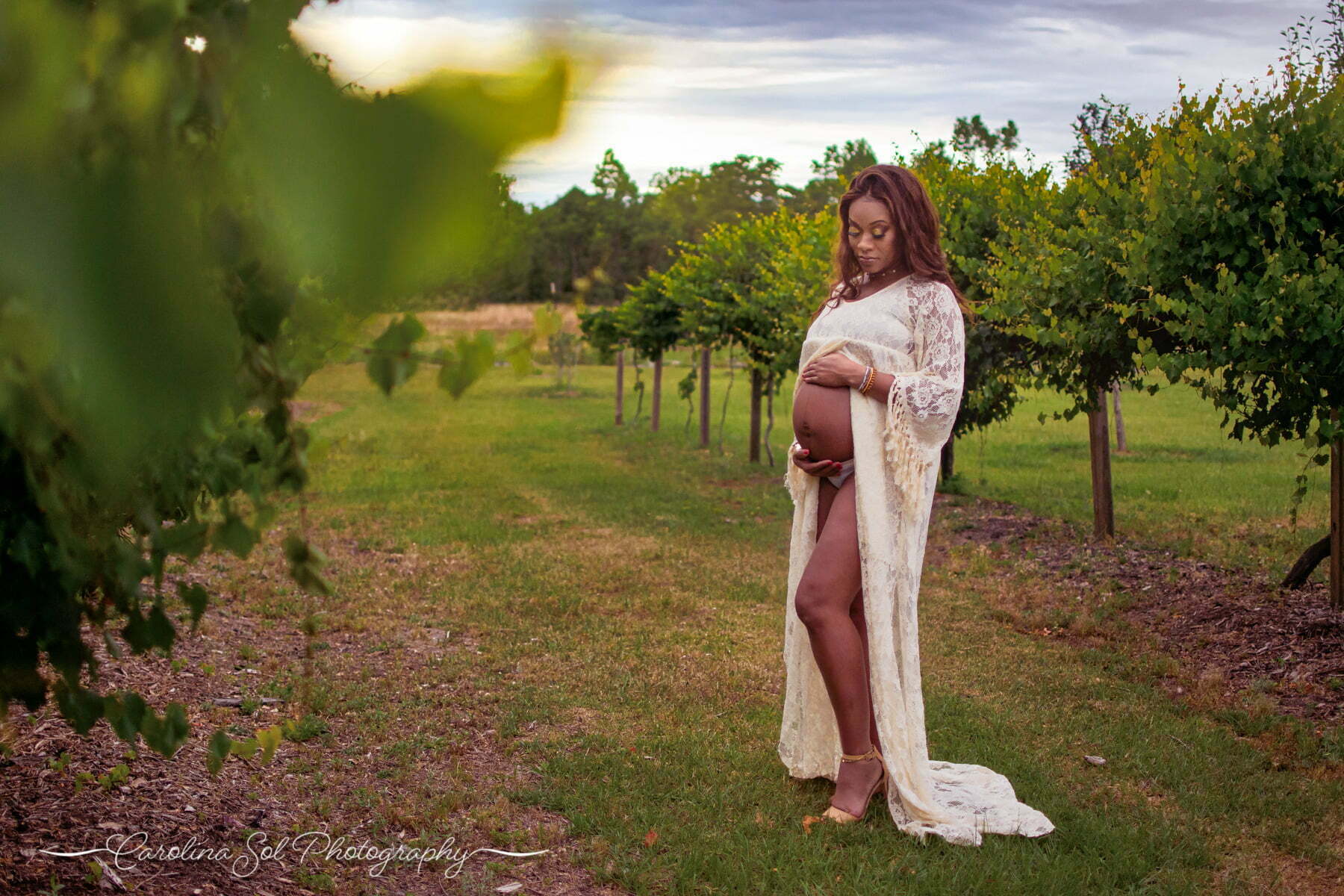 Unless you are planning to have a baby announcement maternity photoshoot, scheduling your maternity session too early could mean the bump won't be clearly visible. Waiting until the last few weeks of pregnancy can be some of the most exhausting weeks of the last 9 months. Babies tend to make their own rules and due dates are just an estimate. Scheduling your session at the very end of your pregnancy is unpredictable and doesn't leave any room for surprises. Avoid this and prepare for maternity photography sessions early.
Scheduling your maternity photoshoot between 25-35 weeks pregnant gives a little wiggle room for unexpected obstacles and will result in an overall more comfortable photography experience.
Communicate Your Session Goals With Your Photographer
What is your ideal outcome from your maternity session? Many mamas-to-be have a vision in mind for what they hope to achieve with their maternity photoshoot. Others might want to put their trust fully in their photographer and let them have full creative control. Both are good and should be communicated clearly upfront.
As a maternity photographer, I ask what their session goal is during our initial phone call. Be clear about your thoughts on how you want to capture this chapter in your life. Is there a particular location you want the session to take place? Living on the coast, many of my clients want to have a beach maternity photography session. One way to prepare for maternity photography that often gets overlooked is simply being clear with what you're wanting to achieve.
Is there a wardrobe style that you'd love to be photographed in? Do you want to use the images for prints and albums or just something to share on social media?
The session goal should always be capturing pregnancy in a beautiful and unique way.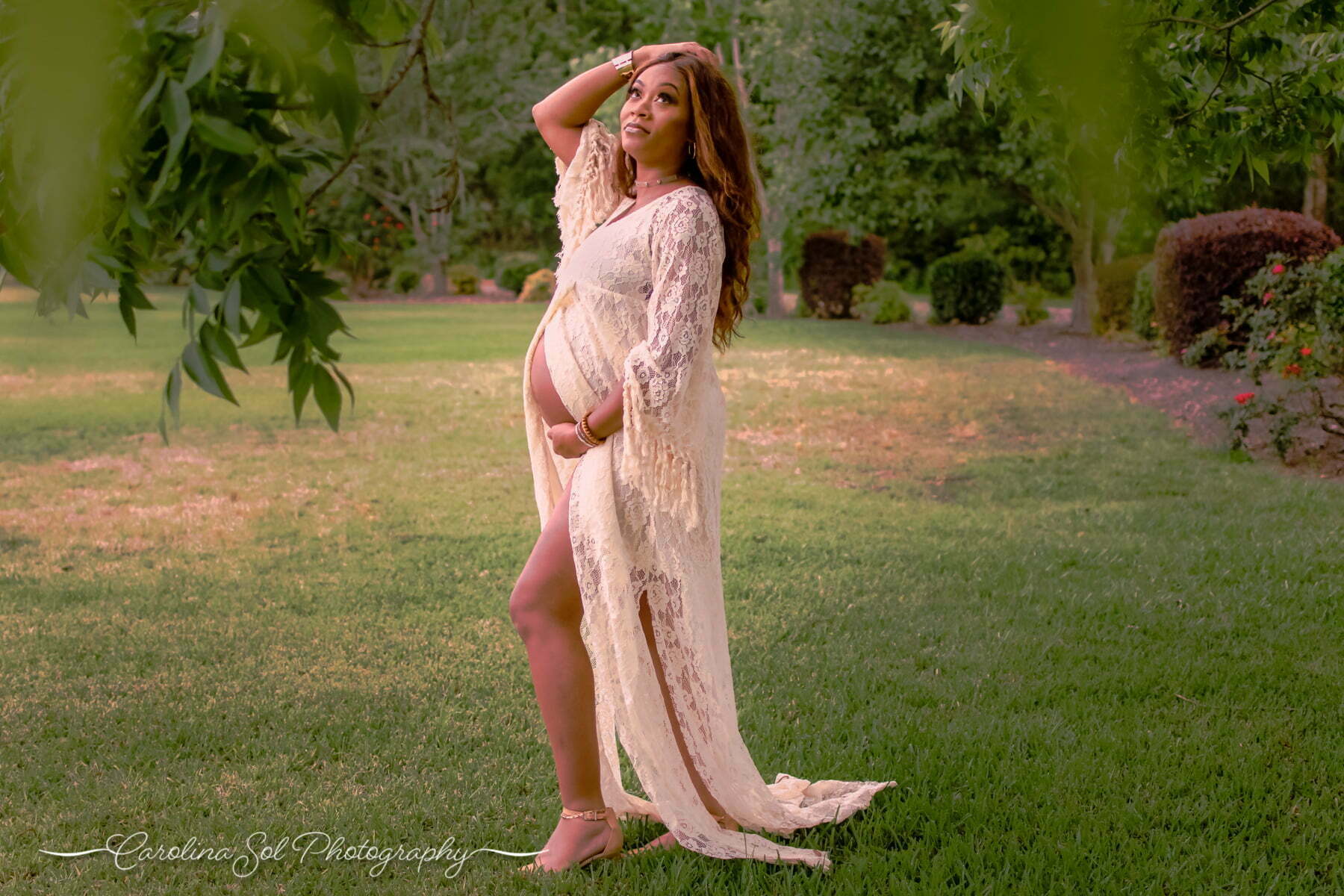 If the client has an idea in mind of what they are hoping to achieve it should be communicated early. For example, maybe you saw a maternity portrait on the beach and the mom was wearing a long, flowing dress that you really loved. If you'd like to try something similar and add your own unique spin to it, tell your photographer! We are bursting with ideas and can brainstorm a creative solution to create that maternity magic.
If you plan to use the images for wall art and family heirlooms tell your photographer that too. Again, every photographer offers a different skill set and provides unique services. Knowing the goal purpose of the photos allows photographers to personalize your session that much more.
Whether you have a ton of ideas or none, communicate this with your photographer early on to ensure you find the right fit for your needs.
Decide On Wardrobe
When it comes to fine-art maternity photography, a key factor is wardrobe and style. What should you wear?
This of course all depends on your vision, expectations, and your photographer. For example, many of my maternity clients opt to wear flowing dresses that accentuate their growing baby bump. These photographs really well but won't fit your vision if you're leaning towards more of jeans and T-shirt style. Nude maternity portraits have also become very popular in recent years. You can do so many creative things with maternity photography and wardrobe is crucial.
You can prepare for maternity photography sessions by deciding on your wardrobe ahead of time. Do not wait until the last minute! You don't want to add any extra stress to your life by making last-minute decisions when it comes to what you'll wear. Save yourself the trouble and decide ahead of time!
Some photographers provide a client closet with a wardrobe to choose from, which eliminates the stress of figuring it out yourself. This is great, especially if you are struggling to prepare for maternity photography. If the photographer does have a client closet then gaining access to it can really take a lot of stress off your plate. If you've found a specific outfit that you want to wear and keep for yourself, that works too. It all goes back to what you're hoping to achieve and the style you're looking for.
Whatever you decide to wear, make sure you are comfortable and confident.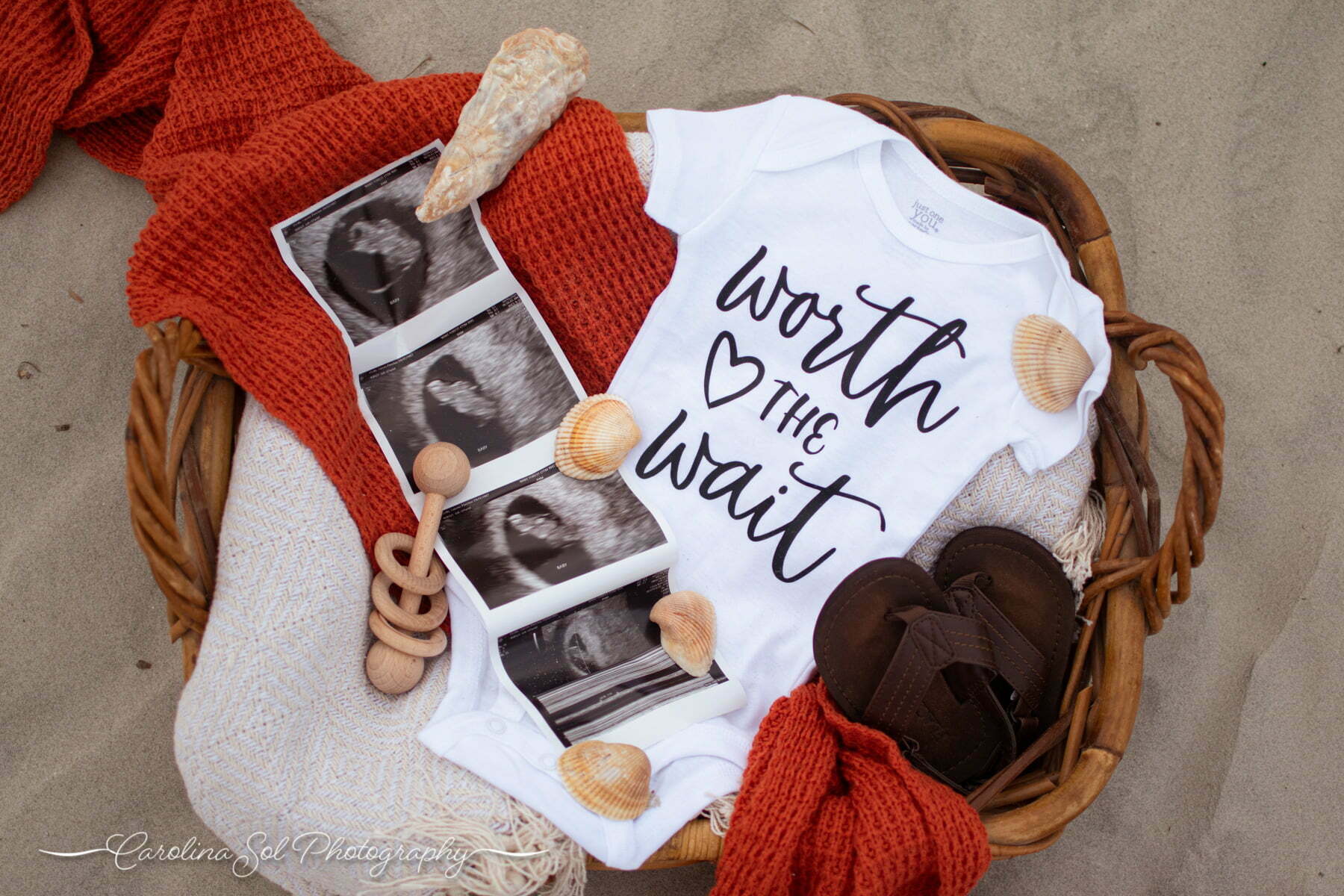 Include Meaningful Props
Bring something sentimental to include in your session. Something that is meaningful to you and your growing family.
This can be anything from an ultrasound, baby clothes, a baby blanket, or a teddy bear you plan to pass down. Another popular maternity session prop would be a board with the baby's name and due date. You can prepare for maternity photography ahead of time by picking out which items you'd like to include.
Don't be afraid to bring a few things and include them all! When you're looking back on this time during pregnancy oftentimes we forget about the small details. Like how small the baby shoes are and how fast babies outgrow them. Including meaningful props in your maternity photoshoot adds that extra personal touch.
Be Honest About Your Comfort Level
Although it is beautiful, pregnancy is not always fun and enjoyable. Being pregnant can be really tough physically, emotionally, and mentally. Hormones are all of the charts, families are adjusting, ankles are swollen, life can be hectic.
And that's okay! As a maternity photographer, I get it! Don't ever feel like you need to do anything you aren't comfortable with. Be honest with what you are and aren't comfortable doing for your maternity photography session.
For example, it probably wouldn't be a good idea to schedule a beach maternity session that requires miles of walking in the hot heat and sand or hiking up a mountain to get to the location if you aren't physically able to do that. Don't take a risk and try forcing yourself either, it's not worth it. Talk with your photographer about your limits.
Hire a photographer who is patient, understanding, and accommodating. During your session, if you need to sit down or take a short break to let the swelling go down then do that. The top priority should be the mother's comfort and safety.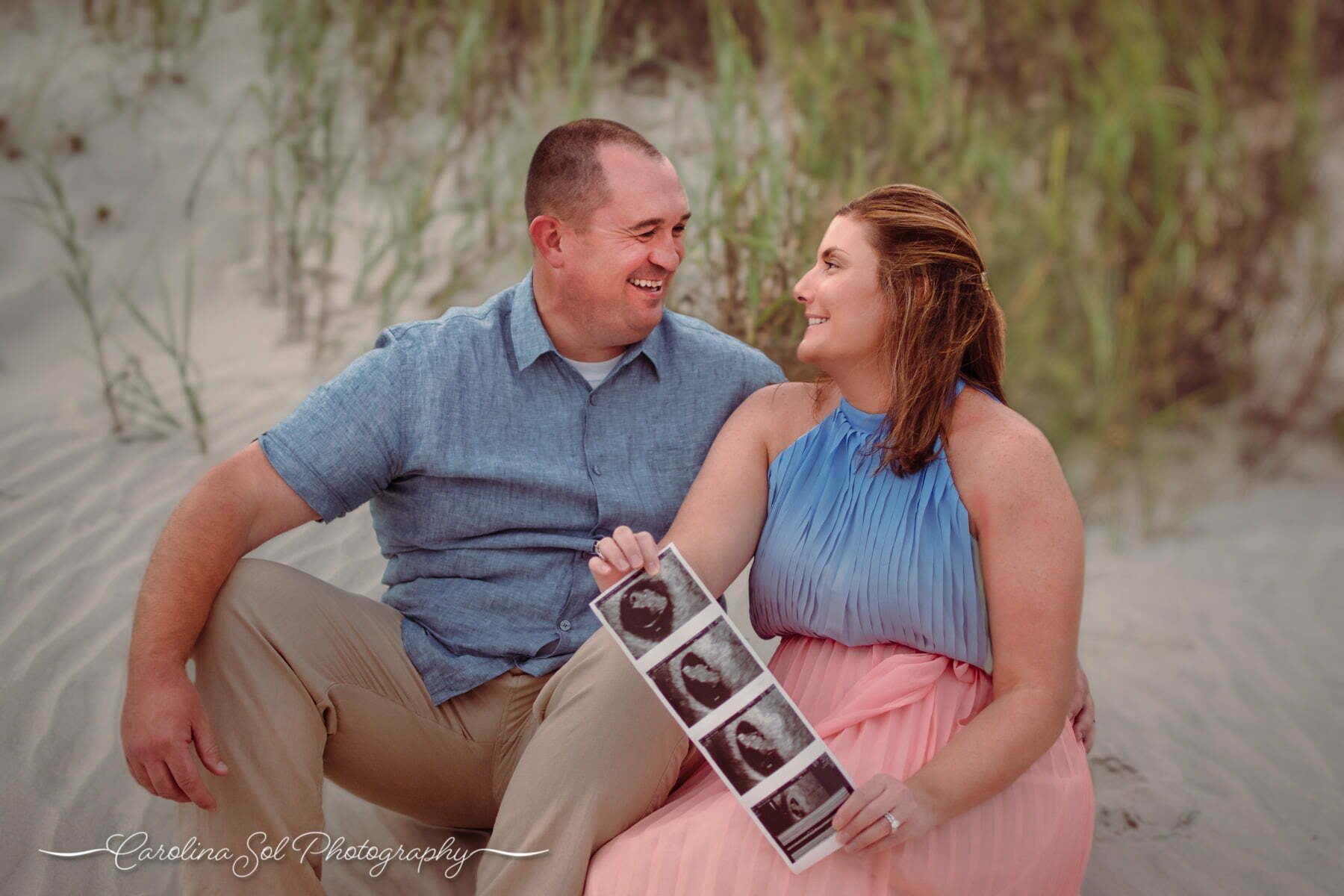 Include The Family
Maternity portraits focus mainly on the expecting mother and the growing baby bump, however, it's important not to leave out the rest of the family too! Whether you are first-time parents or adding new members to your crew, it is a cardinal point for the whole family.
Be sure to include the dad and siblings when you can! Some of my favorite maternity portraits involve tender moments with both parents and their children loving on each other. Recreating the maternity portraits for the upcoming newborn session is so fun! Consider including dad and sibling in some of the pictures!
Self Care
Mama, you cannot pour from an empty cup. So what fills yours? Whatever it is, do it before your maternity session. Take care of yourself, hell go a step further and spoil yourself! You deserve it! You can prepare for maternity photography by taking care of yourself first.
Get your hair and make-up done by a professional, go for a prenatal massage, relax on the beach, sleep in, grab your favorite food. Grab two! Do whatever it is that will help you be comfortable and confident during your maternity portraits. Fill your cup so you can be ready and excited for your maternity session!
It's important to get enough rest and eat before your photoshoot. These are crucial steps to having a successful photography session that often gets overlooked. No one wants to have their photos taken when they are hungry and irritable. One crucial way to prepare for maternity photography sessions is by getting plenty of sleep the night before and eating before. Don't skip it!
Sleep. Eat. Relax. Pamper yourself.
Follow these tips to help prepare for maternity photography and you will be setting yourself up for an enjoyable experience making epic photographs!