MEET THE LOY FAMILY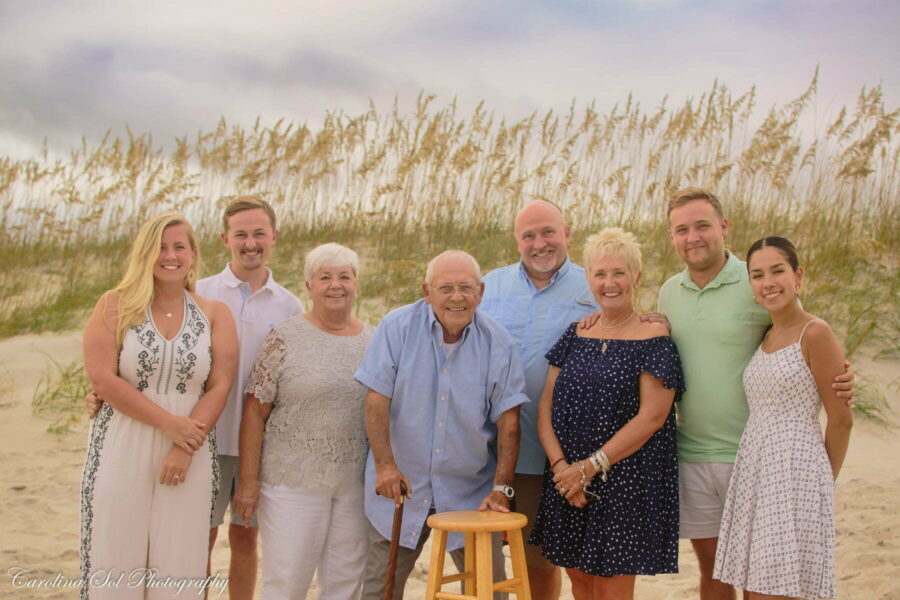 ---
Holden Beach Family Photography Session
This past summer the Loy family reached out to me looking to book a family photoshoot at one of my favorite Brunswick County beaches, locally also known as Golden Holden.
Holden Beach, North Carolina is known as the family beach in the South Brunswick Islands, and for good reason. As a lifestyle photographer, one aspect of my style is specializing in Holden Beach family photography sessions. Many families want beach portraits, especially over the summertime and Holden Beach is a wonderful place for it.
While going over details, the client mentioned that her father-in-law used a wheelchair and that walking any distance, especially on the sand, would be a challenge, to say the least.
Like many other beach lovers, I think the beach is a magical paradise that everyone should be able to enjoy. Capturing the authentic happiness families share while enjoying the sights and sounds of the ocean is what I love to do. It was then that I became determined to get this family as close to the beach and ocean as I could. The Holden Beach family photography session with the Loy family was one I hoped everyone involved could enjoy, wheelchair or not.
The Challenges
I started looking for beach wheelchairs I could rent locally in Holden Beach, but unfortunately, the town does not provide any. I knew other local beaches, such as Ocean Isle Beach did but apparently not Holden Beach. (I do hope the town looks into providing these for public use in the future.)
That is when I got in contact with a local man named Michael who said he might be able to help.
Without asking for anything in return, he allowed me to use his personal beach wheelchair so that the Loy family could enjoy the beach together during their Holden Beach family photography session. Mich helped out total strangers without a second thought simply because he wanted to.
Help From Our Local Holden Beach Community
Because of Michael's generosity and willingness to help out a total stranger, a man was able to enjoy being close to the ocean. Something that had not been done for many years. A family was able to create priceless memories soaking in the sunset.
That is what Holden Beach family photography sessions are all about, taking significant moments and bottling them up in a time capsule to be cherished for generations.
Session Day
I think their smiles say it all. Our lifestyle family photography session at Holden Beach, NC was filled with non-stop laughter and overflowing joy. Holden Beach family photography sessions are always a fun experience, but this one was especially meaningful.
Soaking up the beach while surrounded by your loved ones. Feeling the soft sand with a warm breeze and salty air blowing on your skin. A first in years. What can be better than that?
Preserving Family Memories
A family was able to create precious memories together while I froze it all in time. All the jokes, laughter, silly faces, kisses, smiles, I was lucky enough to capture it all. And if only for a moment, we were all able to slow down and appreciate the magic that surrounds us. Preserving these moments is why I do what I do.
The family was able to relax and enjoy each other's company next to the ocean, an experience they haven't shared in years. Having that incredible moment surrounded by your loved ones is priceless, a memory that surely won't be forgotten.
The Kindness of a Stranger
In fact, Michael has become somewhat of a local icon for this ongoing act of kindness and his willingness to help those in his community.
Having had his own struggles, he decided to help others whenever he could. Over the years he has helped countless people experience the beauty Holden Beach has to offer and has left a positive impact on so many lives. He has become quite popular for loaning out his beach wheelchairs, walker, and beach tires to anyone who needs it.
His generosity speaks volumes of the kind person he is and the world is a better place with people like him in it.
Locals like Michael is what makes the Holden Beach community so strong.
We all share the same home and we all have an appreciation for our beaches. It is our happy place. Being close to the ocean and hearing the sounds of the waves has a way of washing away all your worries. Holden Beach is an incredible place that everyone should be able to enjoy.
Knowing that such kind locals exist in our little slice of paradise makes me so thankful to call this place home.
When they look at the pictures taken during that Holden Beach sunset, it will take them back to that moment in time. They will remember the happiness they felt surrounded by their loved ones, the kindness of a stranger, and all the fun we had during their family photoshoot on Holden Beach.
---
Photographer tips
You can't go wrong photographing Holden Beach. The beach is lined with tall sand dunes covered with beach grass. When the sun sets right over the dunes and lines up perfectly with Ocean Blvd, it can make for great pictures. Due to erosion, there are often little sand cliffs near the shore. Be cautious of this, especially after big storms.
Holden Beach typically has a huge amount of shells and sharks teeth so it's great for finding those beach treasures!
This paradise is a popular nesting ground for many species of sea turtles. Remeber to exercise caution while having a photography session at Holden Beach, NC! Don't ever try approaching or interfering with the turtles. There are many hard-working volunteers with the HB Turtle Watch who are happy to help answer any questions you may have about turtle safety.
Always arrive early if you are holding a session during the busy summer season, as traffic getting on and off the island can be a challenge. Be flexible with your location during summertime and have a backup plan! There is a lot of parking areas but they still get filled during summer. Claim your spot early!
Holden Beach is also known as "Golden Holden", a nickname given as a testament to its epic sunsets. There are plenty of public parking beach access spots and even a park on the waterway. Finding which spot you want to photograph or hold a session at is not hard because no matter where you choose, you'll have a great view. You really can't go wrong with Holden Beach photography. Over the years I've found many secret spots that are more private with amazing views of the sunset, so always be sure to explore!