Carolina Sol Photography is the Shallotte professional portrait photographer dedicated to providing clients with the absolute best photography experience in all of the Carolinas.
Carolina Sol Photography was born in Brunswick County, North Carolina as a dream to photograph extraordinary little moments in time resulting in high-quality images you can feel. I compose my photos with the intention of telling grand stories, legends. When you look at them I want you to feel overtaken by a connection to life's fleeting moments and the sentimental value they hold. Capturing a person's true essence and authentic emotion; turning moments, that would otherwise have been missed, into captivating wall art –  that is what I do best.
I am committed to making sure every session is an enjoyable, stress-free experience that is delicately crafted to portray the radiance of the subject's soul through my artistic vision. Every session is  filled with laughs and good times that result in timeless images that clients, and their loved ones, can appreciate for years to come. Together, we create beautiful art pieces to decorate the walls of their homes, painting them with memories that can be looked back on fondly and passed down through generations.
Our lives and the bonds we share are significant and should be celebrated. Let me focus on sharing your legacy, while you enjoy living a life that's worthy of a masterpiece.
Capturing Your Significant Moments.
I value the trust my clients have in me to photograph what is most important to them. Whether that be big life changes, new unexplored chapters, or a celebration; you can expect that what is important to you is equally as important to me.
Creative, Emotive Imagery.
Utilizing creativity and adventure to ensure my sessions are enjoyable, I capture the connections shared between my clients and those close to their hearts.  I'm always seeking new perspectives and experimenting with innovative techniques that I can use to tell compelling stories through photos.
Since I was a young girl I have always been known to have a camera in my hand everywhere I went. Over the years I have nurtured that childhood passion for photography arming myself with knowledge and experience turning my wildest dreams into a reality.
I'm married to my high school sweetheart and mom of two incredible boys. Seeing how quickly life can change is what led to my love of photographing human connection.
I consider myself a part-time explorer always looking for adventure. Our world is filled with so much wonder and I want to see all of its beauty. My adoration of the natural world inspires me to seek out new locations that will leave you speechless. I want to tell your story and keep your life's sweetest memories safe.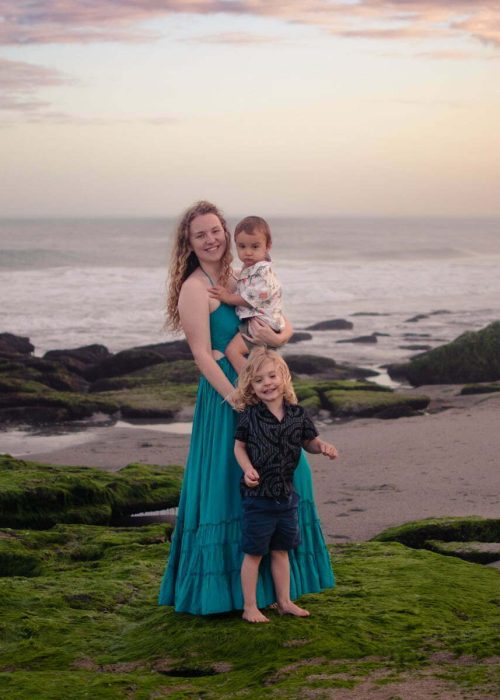 Exploring the wonders of the Carolinas and beyond, always searching for the most magical kind of natural light. That process has become a deeply-rooted passion of mine. Carolina Sol is a name chosen as a testament to that dream, representing my penchant for chasing the brilliance of the sun's shine. As an admirer of our natural world, I strive to find locations that leave us in awe of everything around us.
We are surrounded by magic, should we choose to see it.