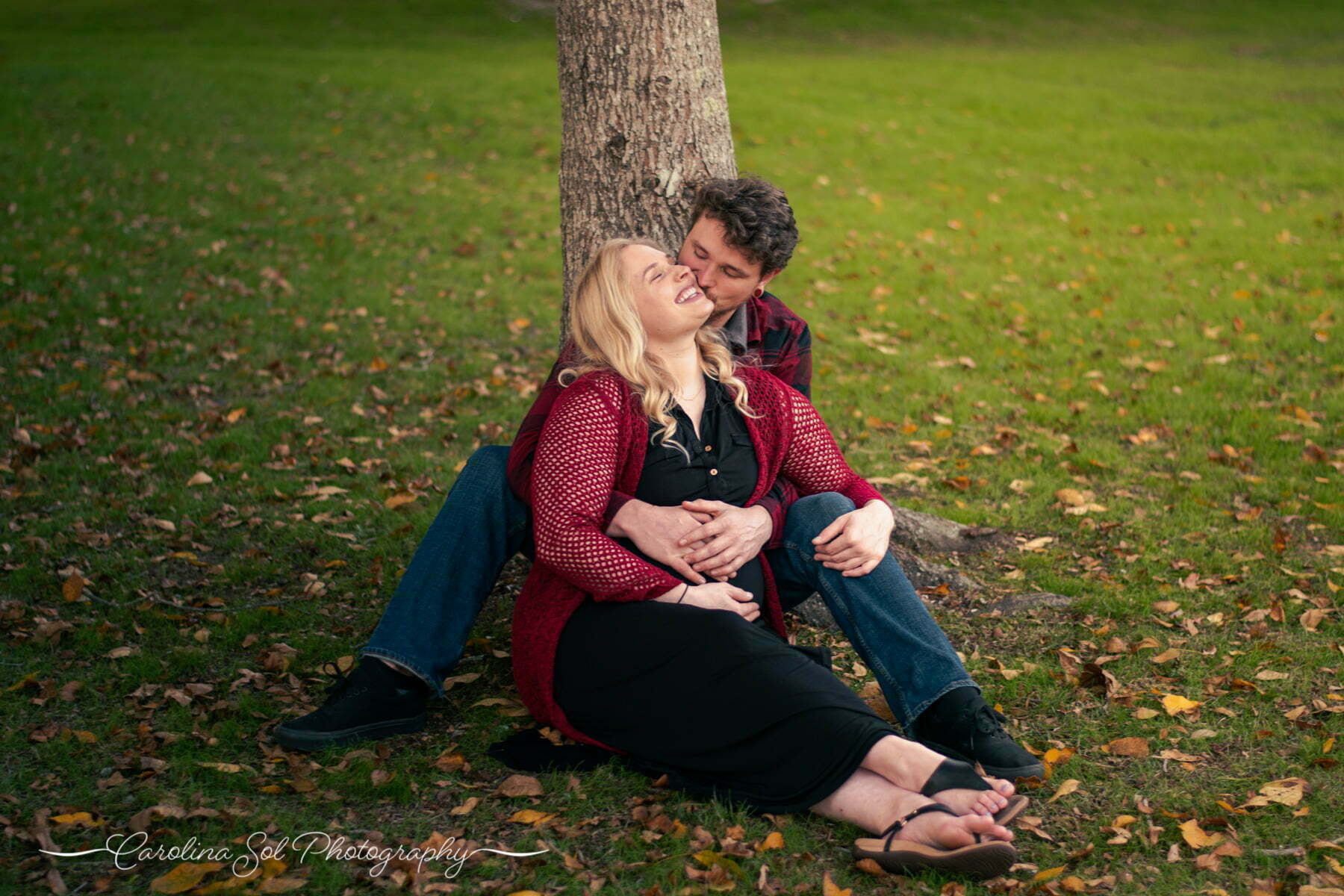 It's not every day that I get to photograph clients who are pregnant with my very own nephew! But on this day, I did! Becoming a family of 3 is a life-changing event, in every meaning of the word.
This lifestyle maternity session was extra special for me. I'm an aunt and my sons have a cousin!
Lifestyle Maternity Photography
When my sister became pregnant I was overwhelmed with excitement about her lifestyle maternity photography portraits. I started brainstorming as soon as I found out. I always have a ton of creative maternity portrait ideas so I was eager to try some out for her session!
I specialize in maternity photography because I fell in love with it during my own journey entering motherhood. I love how authentic lifestyle maternity photography is. It's emotional and honest. Families will cherish such photography for generations to come. Becoming a family of 3 is a beautiful transformation that is so important to photograph.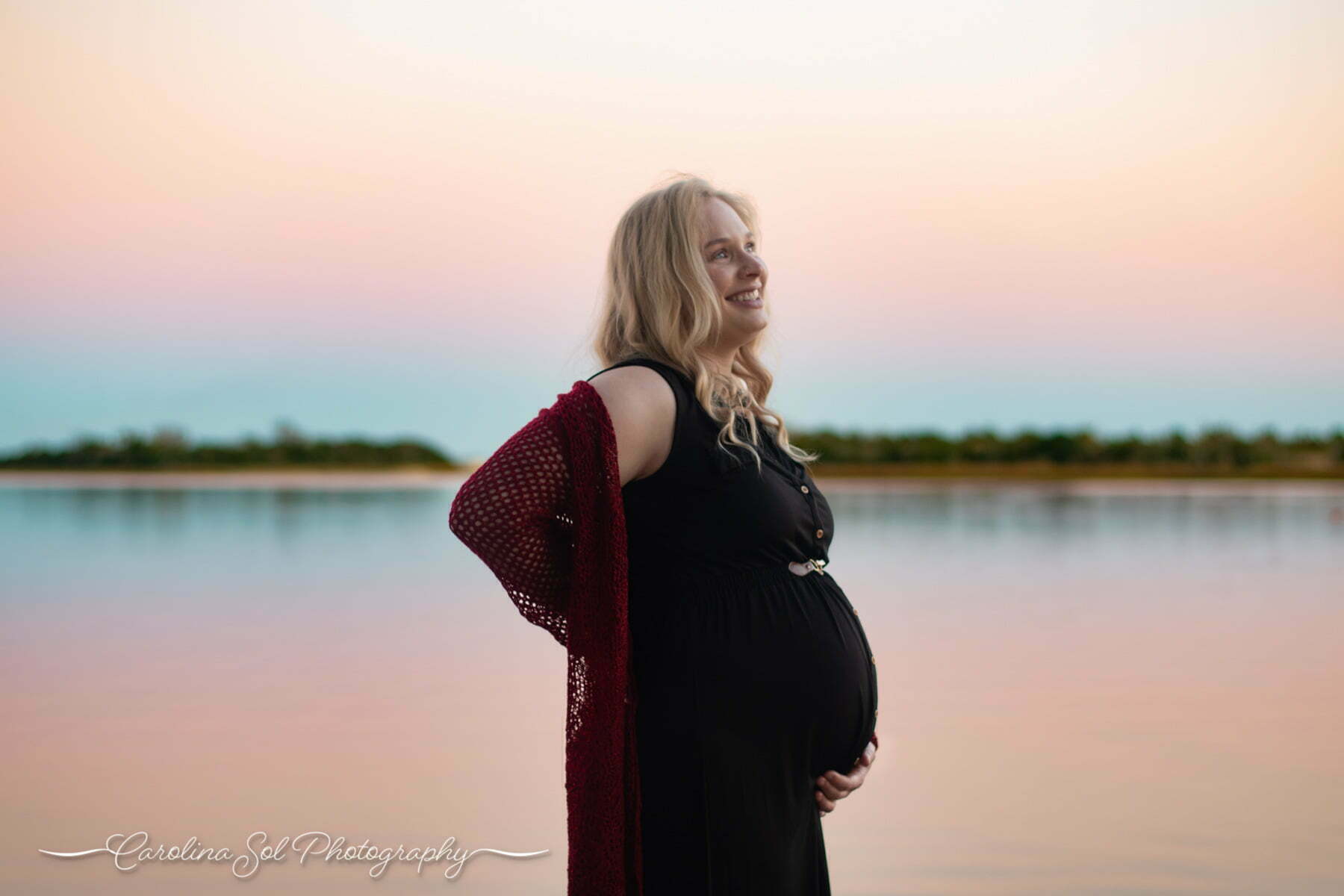 Let's be honest, entering parenthood is terrifying. Nothing can really prepare you for it. It's walking straight into the unknown with endless questions and no real direction. All while knowing soon you will have a tiny human who you will be responsible for. Sounds fun, right?
It can be scary, but it is also the most excitingly beautiful time in someone's life.
As pregnancy progresses and the due date gets closer, there is a certain radiating glow that just pours out. I've noticed this glow is present with not only the expecting mother but also in their partners and siblings. Pure excitement for whatever journey lies ahead. Lifestyle maternity photography is the best way to preserve that glow for generations. That glow is why I love being a maternity photographer!
Being able to photograph a woman's journey into motherhood is always meaningful. It is my passion to be the best maternity photographer that I can be. Capturing my sister's journey was an honor. I will be able to look back on our lifestyle maternity photography session at Sunset Beach and remember it vividly. I'll even be able to share them with my nephew one day!
Lucky for me, my sister was between the weeks I prefer to do maternity portraits during the peak of fall. Fall is one of my favorite seasons to photograph. I look forward to seeing the vivid colors of the leaves changing every autumn.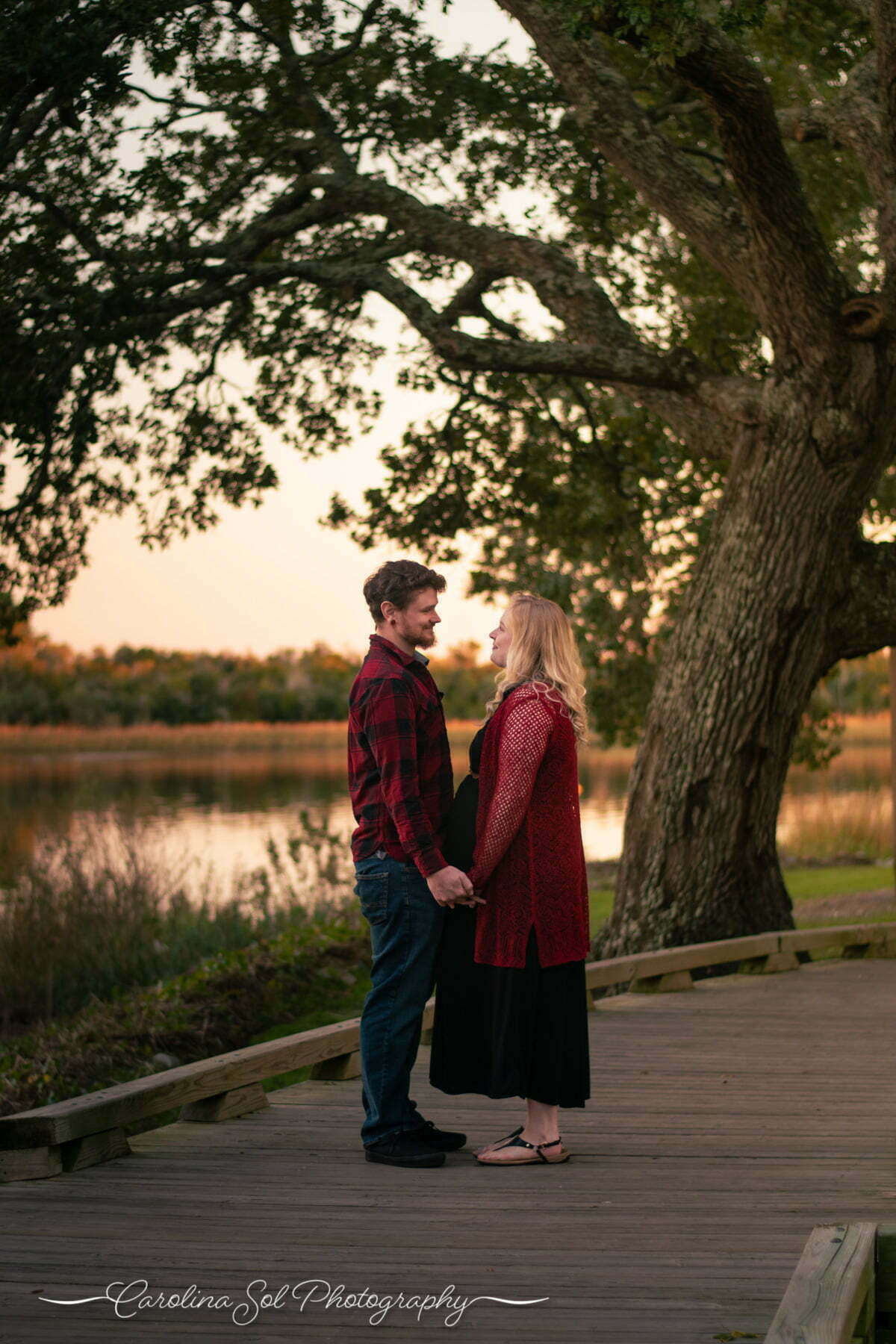 Sunset Beach, North Carolina
Sunset Beach is a gem of Brunswick County and North Carolina as a whole. I have always gushed about it. The Sunset Beach Park is an especially beautiful addition to the area that opened in spring 2015. It's located right next to where the old bridge use to stand until it was replaced by the new bridge. The Sunset Beach Park sits on around 5 acres of land with live oak trees, marsh boardwalk, ample fishing, and wooden swings to enjoy the view. AKA my kinda location for the best lifestyle maternity photography.
During the fall, the trees lining the Sunset Beach park boardwalk like to show off their color. We planned the maternity photography session during peak season so the colors would be most vivid. Sunset Beach Park also has a great overlook of the Intracoastal Waterway with the new Sunset Beach bridge in the background. It's a very versatile location for many genres of photography!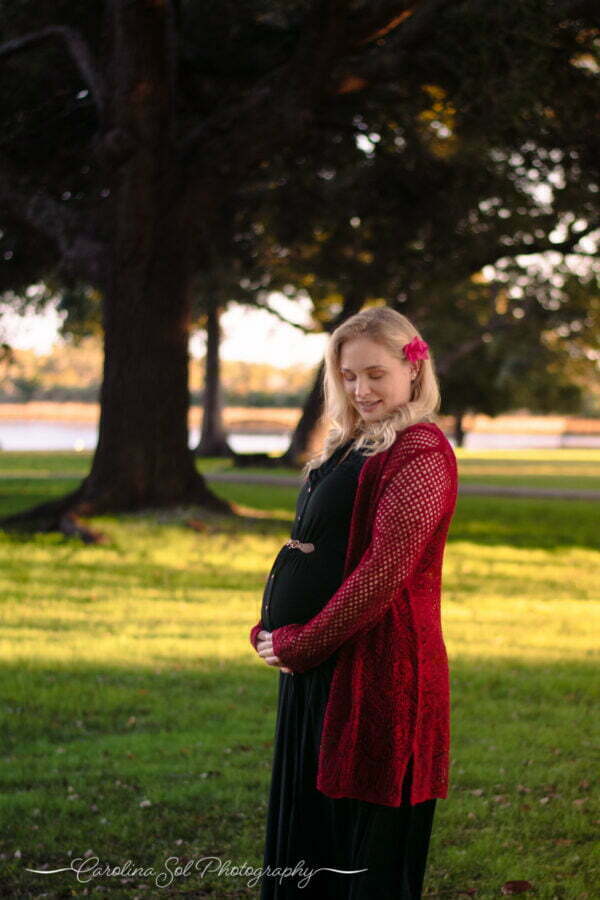 Part of providing my clients with the best maternity photography experience is understanding their needs. I want to help relieve any stress they have about getting high-quality portraits. I provide my clients with everything they need to know to get the best maternity photography session results. I walk them through everything, listen to their ideas, and build creative works of art specifically for them, Like many expecting mothers, finding what to wear can be a daunting task. The last thing you want to worry about is what to wear for your maternity portrait session. For this reason, I do have a growing client closet available for maternity photography.
I've been building my client closet for this reason to relieve that stress. I offer my maternity clients access to my client closet where I supply dresses and accessories they can wear for our session. Of course, some mothers would prefer to get something special just for their session! There are so many gorgeous styles you can do for maternity photography! This session was less styled and more focused on simplicity. I was happy to provide the wardrobe for my sister and help her find something that was comfortable and made her feel stunning.
She picked out a long black dress with gold buttons and paired it with a red crochet cardigan and black flats available in my client closet. Simple and elegant. The dress is one of my favorites because it's so versatile and flattering for different body types. A wonderful choice for our lifestyle maternity photography session.
Session Day
We scheduled our maternity session for golden hour in hopes of getting an epic sunset. As you can imagine, Sunset Beach photography is incredible during sunset. Having our outdoor portrait session scheduled during golden hour gives off the softest, warmest light that is stunning for lifestyle maternity photography.
We started our session with her and her partner leaning against one of the live oak trees. We walked on the boardwalk to the trees covered with bright yellow and orange leaves.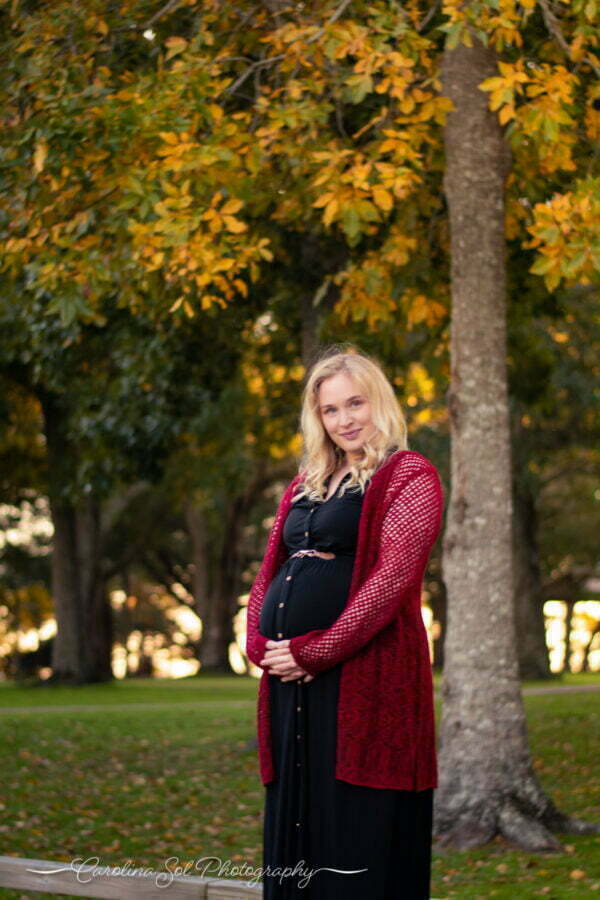 I always like to include personal items in my lifestyle maternity photography sessions and I encourage my clients to bring something. She brought a few baby items such as onesies and baby shoes. After some photos with the sentimental baby items, we walked down to where the water meets the marsh.
The sky looked like a cotton candy sunset and was absolutely gorgeous. With lifestyle maternity photography you don't do much posing of the clients, but rather capture the authentic moment. I use prompts to get the expecting parents to interact in ways that truly embrace who they are. I prefer the unscripted approach. They were laughing together during their entire lifestyle maternity photography session with me and you could feel their excitement to meet their first son.
I'm very proud of the images captured and the unique art we created. Lifestyle maternity photography tells a powerful story about the joys into motherhood. Preserving that story with maternity portrait photography is what I love to do and why I chose to specialize in this field.
My nephew was born that winter. A handsome and healthy baby boy. Congratulations, sis! I'm an aunt!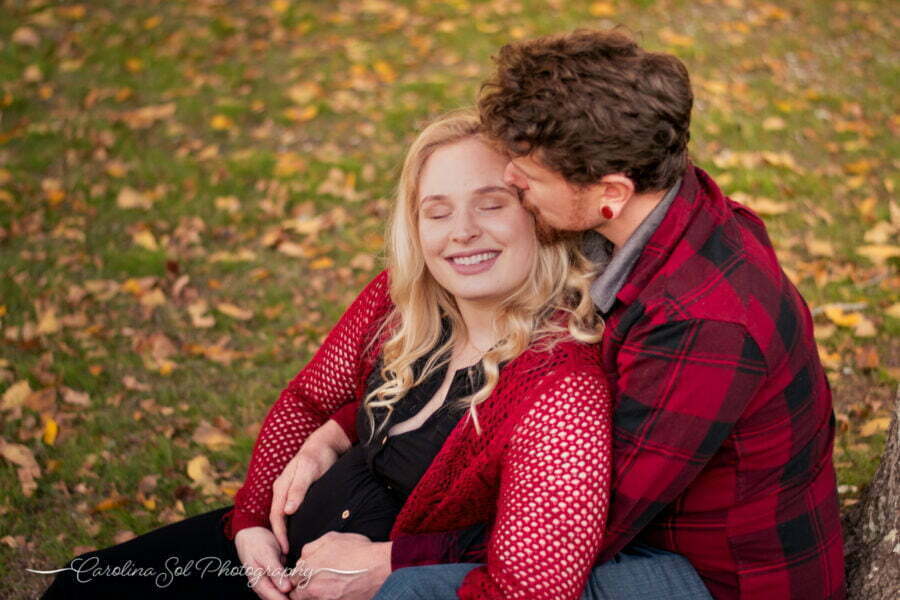 Photographer Tips
If you're in the Sunset Beach area, definitely check out Sunset Beach Park. It is rarely overcrowded but during the summer season that is a different story. Parking in the busy season could be a problem so as I always suggest – arrive early. Plan ahead for these delays.
Sunset Beach Park is a popular place for people to take their dogs for a walk. Just a note for anyone who might find this to be a problem.
There's a local market held at Sunset Beach Park on certain days and times throughout the year. Be sure to check ahead of time if your scheduled session will fall on one of these days.