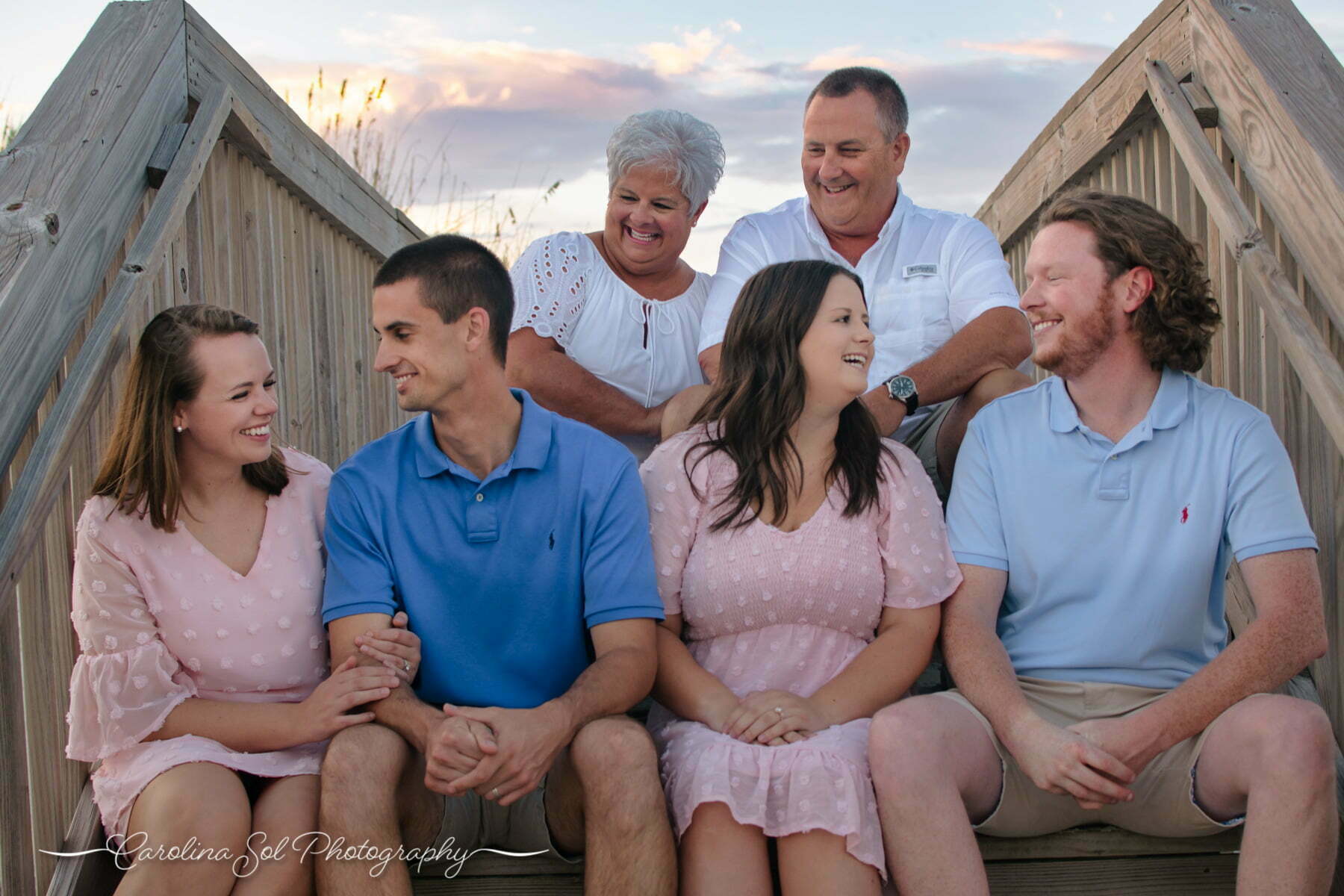 "Can't have a rainbow without any rain."
Sunset Beach NC Lifestyle Family Photography
I'll be honest, I tell myself this every time it rains all day when I have a session that evening. Shooting in different weather conditions can create dramatic scenery. Personally, I love shooting during overcast and rainy weather. Even still, if I have a lifestyle family photography session scheduled it's more comfortable for everyone to stay dry.
You know how the saying goes, you can't have a rainbow without any rain! Very rarely do I get lucky enough to actually have a rainbow appear during a photoshoot, it's all about being in the right place at the right time. But on this day, with this wonderful family, it all fell perfectly into place.
The Bowes family reached out for a Sunset Beach NC lifestyle family photography session. Growing up here it is one of my favorite locations. It was a beautiful family with their two adult children and their spouses. With the date, location, and wardrobe all set I was looking forward to photographing this family!
Session Day
Session day rolls around and what do you know, the forecast calls for spotty summer showers for the whole day. I have never been one to reschedule a photoshoot because of the possibility of light showers, I'm equipped to shoot in such conditions. Still, I watched the forecast in hopes that at least during our scheduled session time the rain would hold off long enough for us to finish.
When I got to the location I was really thankful to see some blue skies with clouds off in the distance. Moments after the Bowes family arrived, a gorgeous rainbow appeared over the dunes. I couldn't believe it, the timing was perfect! After greeting them I quickly got them into position in hopes to capture the rainbow in their photos.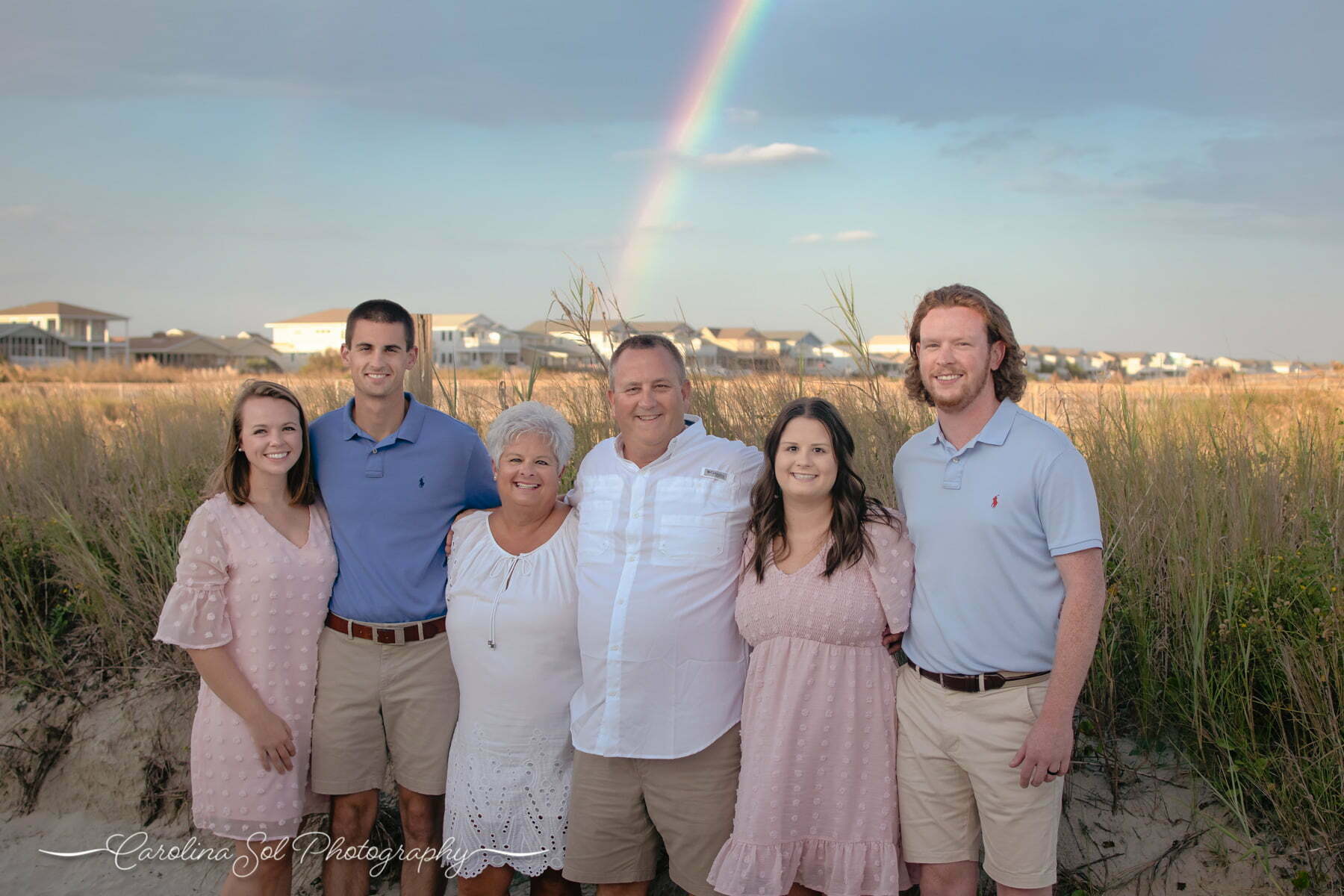 With the family lined up and the rainbow behind them, we were able to get an amazing family portrait that I am very proud of! One that I know the family will cherish and love for years to come. A stunningly vibrant rainbow at the beach led straight to the lovely lady that booked the family photoshoot and brought us together.
This is a great example of reasons why Sunset Beach NC Lifestyle Family Photography is so important. Creating memories and works of art that tell a story.
That was just how it started. The magic didn't stop there as we captured so many beautiful moments shared between the family members. When photographing a large family made up of multiple family units and couples, I like to take some photos of each family unit. I started with family photography of the whole group and then moved on to couples photography with each couple. They were all so wonderful and I adore the pictures captured that day. Beautiful skies, colorful sunsets, and a happy family. Can't ask for much more than that!
Photographer tips:
Photographing a distant rainbow with your subject in close range can be challenging if you aren't comfortable with your camera. Be sure to shoot in manual and be knowledgeable of your camera! Don't be afraid to try new things and see how it turns out!
Sunset Beach NC Lifestyle Family Photography should be a fun and enjoyable experience! Be prepared to deal with a few curveballs especially during the summer time. Sunset Beach is beautiful, but fairly small. It is often very crowded and
Sunset Beach pier does not have a very large parking lot compared to other local beaches. It only has 2 rows and a small paid lot. Public parking is really hard to find and if you're lucky there will be a legal spot to park at on the side of the road. Key word here is legal as to be sure to avoid getting a ticket. Sunset Beach police department is very strict about the parking on the side of the road rules, so you should know what they are!
Besides the pier, there isn't another lot to park at on the island. Parking is something that definitely needs to be considered in advance, have some backup plans for photography sessions at Sunset Beach, especially during summer!