This past Sunday, March 28, 2021, marked the first annual cornhole tournament hosted by the local charity foundation Mike's Footprints at The Hot Buffalo in Holden Beach, North Carolina. Partnered with several other local small businesses in Brunswick County, they all came together to support a good cause.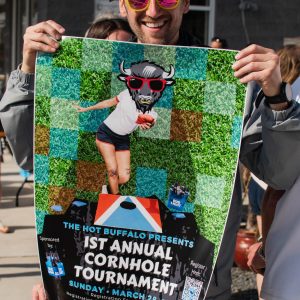 The tournament was a fundraiser put together to raise money for a local family in need. The date of the event turned out to be a beautiful day with lots of sunshine despite the call for rain. Participants raised money playing in the cornhole tournament against other teams until the championships. Prizes donated by local small businesses were raffled off to the crowd, including a grill/smoker, neon signs, gift certificates, beach chairs, and more! In total, nearly $2,400 was raised for a family in our community.
Carolina Sol Photography was there to photograph the event and show support for these local businesses. It was a great time for a great cause and I'm glad we were able to be a part of it. Everyone was in good spirits, coming together to help and support our local community. Many donations were given for this family and many prizes were raffled off! None of this would have been possible if not for the support of all these locals and small businesses.
Mike's Footprints is a non-profit founded in 2018 by Michael Lucas to help those within our community who suffer from natural disasters and unfortunate situations. He has helped several families within our community and has even traveled to the Bahamas to help rebuild after Hurricane Dorian destroyed the island leaving many residents without running water or electricity. He has also helped those in Southern California rebuild after many homes were destroyed by wildfires. Helping this local family is his latest project in the Holden Beach, North Carolina area.
The annual cornhole tournament was sponsored by:
Castaways, Dockhouse, Hot Buffalo, Provisions, Don Evans Electrical, Boomer's rentals, Champion Pools and Spas, Junebugs, Adam's Distributing, Archibald's Deli, Island Time Rentals, Robinson's Hardware, The Cove, Anaya Tribe, Lockwood Folly Country Club, and Mikesites!
Thank you all for showing your support and helping those within our community in need!